Concrete is composed of coarse aggregate and a fluid-cement that is mixed together, poured into forms, reinforced with steel rebar and hardened into a stone-like material. It is common for concrete to crack during its curing process or as a result of structural movement greater than the tensile strength of the concrete. These cracks often begin as hairline, shrinkage or stress cracks. Eventually these small openings allow for moisture, salts and other contaminants to infiltrate the concrete. Trapped contaminants and moisture in concrete will cause the rebar to rust and swell. This swelling creates concentrated pressure within the concrete. In turn, the pressure will cause the concrete to spall. When concrete spalls, thin layers of the concrete shed from the surface. Left untreated, it can ultimately lead to concrete corrosion and structural failure.
Most roofing substrates are constructed of a concrete or metal deck. A concrete roof can be left exposed as an IRMA style roof or a concrete roof deck can be covered with a traditional roof system. When a concrete roof deck is covered with a traditional roof system, water can still penetrate through to the concrete deck by entering in at the seams of the traditional roofing membrane. Leaks under a roof membrane can be difficult to find and repair. Often the roof membrane must be removed in order to properly treat the cracks in the concrete deck.
Exposed concrete roofs are common in many areas around the world and fluid-applied roof coatings are becoming more and more popular over exposed concrete roof tops. There are however, many failures with traditional coatings over concrete. Common coating failures include bubbling, lifting and peeling of the coating from a concrete surface.  Coating failures over concrete roofs are typically a result of the coating having a poor perm rating, allowing moisture to permeate through the coating. The trapped moisture in the concrete then turns to vapor, attempts to escape and as a result, lifts the coating away from the concrete surface.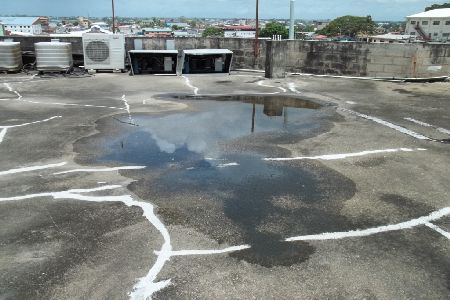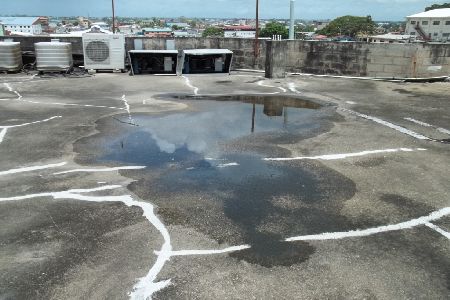 The SureCoat Roof System is field tested and a proven solution over existing flat and low-slope concrete roofs!
By utilizing advanced integral crystalline technology and cross-linked coating chemistry, we have developed a roof system that blocks the moisture vapor emissions, eliminates 100% of roof seams, withstands ponding water and is UV stable for the entire life of the roof system (10 to 20 years).  The SureCoat Roof System can be applied directly over an exposed concrete roof or roof deck that has been treated with SS-DPD Densifying Sealer. Fasteners and mastics are never used for the installation of the SureCoat Roof System and there are no seams, no flashings and no penetrations in a SureCoat roof.  The SureCoat Roof System is self-flashing, self-adhered and self-priming, making the installation process very simple.
Prior to the installation of the SureCoat Roof System, a concrete roof or roof deck is treated with SS-DPD Densifying Sealer to block vapor emissions and protect the concrete from the inside out. SS-DPD is a low viscosity liquid sealer that is applied to exposed concrete with a Hudson style sprayer. SS-DPD penetrates up to 4" into concrete to fill in the matrix and create a vapor barrier. This vapor barrier blocks the hydrostatic pressure in the concrete that can cause coatings to lift.
There are few roof coating systems available on today's market that have been field tested and proven to be truly sustainable and waterproof. Most coatings are for reflective properties to increase the energy efficiency of a roof system. If you have a concrete roof or a concrete roof deck and you are experiencing leaks, you need more than just a reflective roof coating. You need an impermeable membrane to encapsulate your roof and protect your valuable assets!
The SureCoat Roof System is a fluid-applied, fully reinforced monolithic roof system engineered for flat and low-slope roofs with water intrusion issues. The SureCoat Roof System is eligible for a 10 or 20 year Renewable Performance Warranty when installed to specification by an Approved Contractor. At the end of the warranted period, an existing SureCoat roof can be inspected, cleaned with SureSkrub, and coated with an additional 10-20 mils to renew the roof warranty for an additional 10 or 20 years.
Call 877-823-7873 or click today to request pricing, specs, product data or for an Approved Contractor.
Having issues with your concrete roof? Let us help!