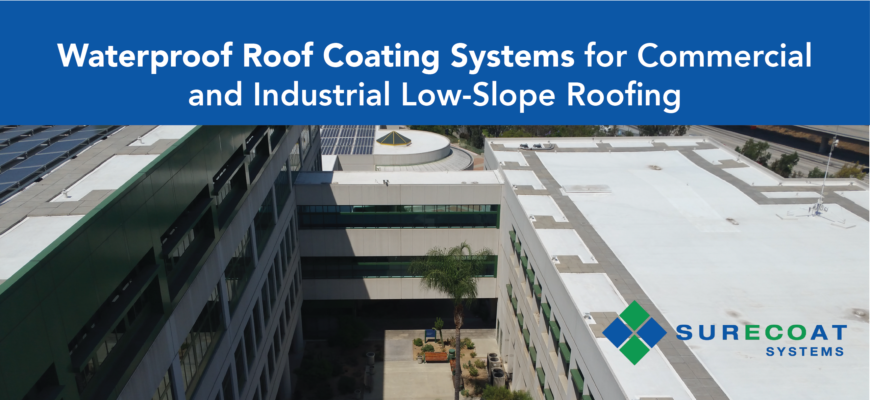 Before selecting a roof coating for your next commercial project, here are some things to take into consideration.
1. Perm Ratings- For a coating to be waterproof, the perm rating should be less than 1.0. If the product you want to use reads 1.0 or higher, the coating is not technically waterproof.
What is Perm Rating? A perm rating is the unit telling us the mass rate of water vapor flowing through one square foot of material, the higher the number the less waterproof the material is.
Why do Perm Ratings matter? A roof covered with a product that has a higher perm rating is more likely to encounter roof leaks and damage due to ponding water and condensation.
2. Appearance – You want to ensure that the product you select is able to deliver a monolithic, UV stable, renewable surface.
3. Warranty – Comparing the available warranties between products and brands is a must when selecting a roof system. Whether you are a building owner or a professional roofing contractor, the right warranty will give you peace of mind after the job is complete, so reading and fully understanding the fine print is also a must. Another thing to keep in mind is what is "promised" vs. "reality" doesn't always match up, so always ask to see the actual warranty prior to purchasing any product.
4. Cost – The types of roof systems out there are endless, and the costs of the products are not the only costs affecting your project. Ensure the product you choose for your next commercial roof project is not only cost-effective, but that the installation time and labor cost-factors are also taken into consideration.
5. Compatibility of new roof material over the existing substrate – Not all roof systems can be applied over the existing roof, and tear-offs can be labor-intensive and costly when it comes to old material disposal fees.
With all these things in mind, here is how SureCoat Systems' products are the right choice for your next commercial project.
The SureCoat Roof System is a monolithic single-ply roof restoration system that is waterproof throughout the entire system. It is a single-component, UV stable epoxy-hybrid roof coating with a perm rating of only .0025 which qualifies as a Class 1 waterproofer. Zero moisture can pass through a SureCoat Roof System. SureCoat exceeds all Title 24 and other energy standards, and is a Super VOC Compliant coating product with the SCAQMD.
Because SureCoat is an epoxy-hybrid engineered coating, not just a white acrylic roof paint. The SureCoat Roof System (monolithic single-ply coating) membrane is energy efficient and waterproof from the first ply to the top ply.
Whether it is our 10, 15 or 20-year Renewable Warranty when installed by an approved contractor, SureCoat is energy efficient and waterproof for the entire life of the system. SureCoat Roof Systems are the only roof systems with a warranty that covers ponding water on flat and low-sloped roofs, and best of all, it is not prorated. The same cannot be said about other roof types, such as built-up (BUR), rubber (EPDM), or plastics (PVC).
SureCoat roof coatings can be used over almost any existing roof system including Metal roofs, BUR, Concrete roofs, IRMA roofs, PVC roofs, TPO roofs, EPDM roofs, APP roofs and Hypalon roofs. SureCoat flat roof coating products are perfect for flat and low-sloped roofs, even those in the worst condition.
SureCoat is also a unique repair system that can easily be added to over time, creating a new flat roof system just by reconditioning the existing roof in phases with SureCoat.

Before picture (left) showing original Hypalon roof. After (right) showing the newly installed SureCoat Roof System with solar panels installed over the top. The SureCoat Roof System reconditioned this existing roof to a "better than new" condition with a written 15-year renewable manufacturer's warranty. This 15-year system was specifically designed to be installed under solar panels. Read more here.
Did you know that SureCoat Roof Systems are the longest-lasting roof coating solutions for commercial and industrial low-slope roofs that you can find in the USA?
Call 877-BE-SURE today to learn how SureCoat Systems can help your next commercial roof project be your BEST roof project yet!