SureSet roof coating is a quick-set basecoat used to embed Poly-Mesh (polyester fabric reinforcement) for the waterproofing of flat and low-sloped roofing membranes in low temperatures (40°F).  SureSet is engineered with the same high grade raw materials as other SureCoat roof coatings.  SureSet can cure within 2-12 hours when applied in temperatures as low as 40°F.
SureSet roof coating provides maximum waterproofing when installed in conjunction with the other components of the SureCoat Roof System (SCRS).  The SCRS is a fully reinforced roof coating restoration system that provides Field Tested waterproofing and UV radiation resistance for prolonging and sustaining the life of existing commercial roofing membranes.
SureSet basecoat is an ideal waterproof roof coating for complete roof restorations or roof leak repairs in ponding areas, at splits in roofing membranes, around roof penetrations and for waterproofing roof drains.
SureSet can be used over flat and low-sloped commercial roofing systems to stop roof leaks in a timely manner, eliminating the need for multiple trips to complete small roof repairs.  Utilizing the quick-set technology of SureSet saves on roofing labor and down-time.  SureSet alleviates the worry and hassle of temperature restrictions, morning dew and unexpected light showers that prohibit the use of traditional roof coatings.
SureSet must be top coated with original formula SureCoat roof coating within 4-6 months for proper results and sustainability.  SureSet can be used over flat and low-sloped roofing substrates, vertical surfaces, flashings, parapet walls, and penetrations.
Applicable roofing substrates include: built-up (BUR), modified bitumen, acrylic and emulsion, asphalt, cap sheet, gravel and tar, metal, SPF and concrete roof systems as well as Hypalon, PVC, TPO and EPDM (rubber) single-ply membranes.
Click here to contact
SureCoat Systems

or call


877-823-7873

for installation and pricing information.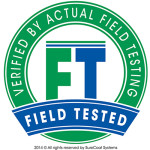 SureSet Quick Dry Roofing Coating