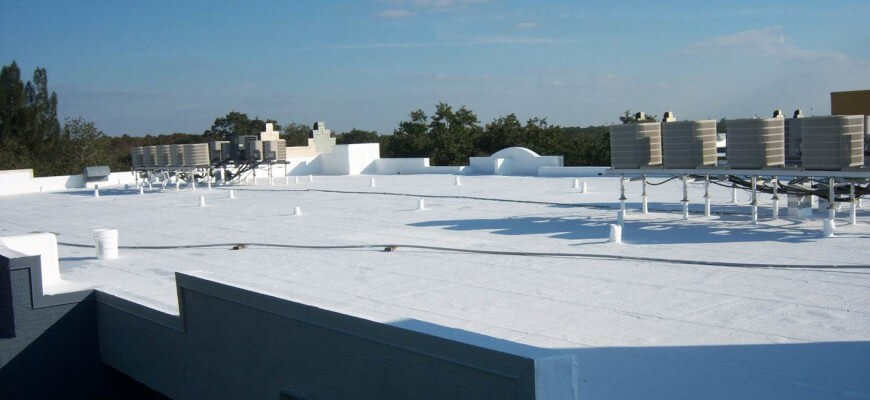 The SureCoat Roof System is a high grade elastomeric roof coating system for restoring existing low slope and flat roofs.  Every property has a roof that will need attention and repairs at some point, but not every property needs a new roof. The SureCoat Roof System is a cutting edge sustainable roofing solution for problematic low slope and flat roofs.  By using the existing roof as a base and completely encapsulating it with a fully reinforced, waterproof elastomeric roof coating, the SureCoat Roof System sustains the life of existing roofs and eliminates the need for roof replacement.
Looking for a partial roof repair system?  Read more about the SureCoat Roof Extender.
The SureCoat Roof System is designed with a waterproof elastomeric roof coating that is impervious to ponding water.  The SureCoat Roof System has been used over millions of square feet across the USA to restore and protect commercial roofs with ponding water that have reached the end of their life cycle.  Utilizing chemistry originally pioneered for the marine industry, SureCoat Systems designed the SureCoat Roof System to protect commercial roofs from water intrusion and UV degradation.  Finally, a sustainable solution for commercial properties with flat roofs!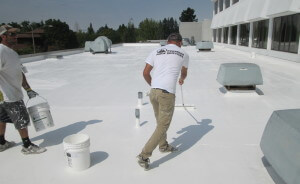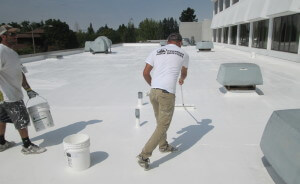 The SureCoat Roof System will adhere to almost any roofing material including failed acrylic and emulsion, built up, modified torch down, metal, concrete and single-ply roofing systems.  These traditional roof systems all have common characteristics that make the roof vulnerable as it ages, i.e. seam separation and lifting, mastics that crack around penetrations and flashings and deterioration at drains, waterways and ponding areas.  This damage leads to roof leaks and eventually to substrate damage.  None of these vulnerabilities exist in the SureCoat Roof System.
The SureCoat Roof System eliminates 100% of roof seams, withstands ponding water conditions and is UV stable for the entire life of the system (10 to 20 years).  There are no seams, no flashings and no penetrations in a SureCoat roof.  The SureCoat Roof System is self-flashing, self-adhered and self-priming, making the installation process simple.  The SureCoat Roof System will not crack, chip, flake or peel like acrylic roof coatings systems. View completed projects here…
The SureCoat Roof is Title 24 compliant; Energy Star approved and has exceedingly high testing results published with the Cool Roof Rating Counsel (CRRC).
The SureCoat Roof System consists of a biodegradable roof cleaner (SureSkrub), a single-component, elastomeric roof coating (SureCoat) and a high tensile strength woven polyester reinforcement (Poly-Mesh).  The SureCoat Roof System must be installed in temperatures of 55°F and rising for proper curing. Together these three components create a 2800 PSI seamless, waterproof roof membrane.
There is one additional elastomeric roof coating options available with the SureCoat Roof System, SureSet.  SureSet is a quick-dry basecoat that can be used to embed Poly-Mesh for applications in colder weather (as low as 40°F) or in areas with higher humidity.
SureCoat is available in White as well as 25 standard colors.  Tinted SureCoat is referred to as StrucSureCoat.  SureSet are only available in White.
All components of the SureCoat Roof System were made to specifications right here in the USA.
The SureCoat Roof System has a written warranty* that is renewable with maintenance applications at the end of each warranty period when installed to specification by an Approved Contractor.  With proper maintenance, the SureCoat Roof System is the last roof a building will ever need!
*Warranty only available to Approved Contractors.  Warranty Application and Warranty Checklist required.  Call 877-823-7873 to speak with your Product Rep about warranty procedure and guidelines.