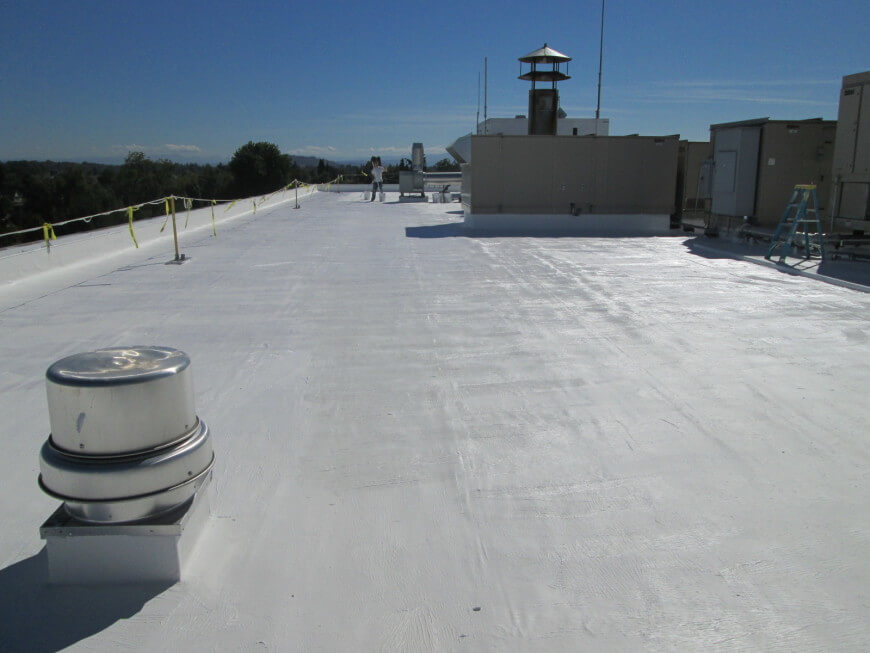 The SureCoat Roof System was installed over the upper level PVC roof of Albany General Hospital, a full-service hospital located in Albany, Oregon.
Albany, OR – SureCoat Systems' Platinum Approved Contractor, Premium Roof Services, received this SureCoat Systems' lead and restored the 15,000 square foot upper level roof on Albany General Hospital. Albany General Hospital is a full-service hospital located in the historical and charming state of Oregon.
When Albany General Hospital inquired to SureCoat Systems, they were in desperate need of a waterproof roofing system for their failing PVC roof that held significant amounts of ponding water due to age and design.
Prior to the installation of the SureCoat Roof System, the Albany Hospital had other contractors attempt to repair this aged roof. The roof consisted of an exposed PVC roof membrane that was installed over a built-up roof with foam insulation and a metal roof deck substrate.
Albany General Hospital recently completed an upper floor remodel.  The complete upper floor is home to the birthing/delivery and neonatal section of the hospital (new babies and moms), and is VERY sensitive to ANY kind of activity.  The condition of the roof had multiple leaks at various locations, and at this point the nurses on duty were used to ceiling tiles coming down in random places.  In the worst of weather, water would run down the outside walls of patients' rooms, forcing the hospital to close them and lose bed space. This year, they knew that something needed to be done, but they also knew that a complete removal of the old system would force them to completely shut down the top floor of the hospital due to the sensitive nature of the patients cared for at this corridor.  Complete removal of the existing roof system would expose the metal decking, potentially turning the hospital into a construction site. The hospital would be fully exposed under these circumstances.

The VERY BEST that could have been done under these conditions would have involved closing entire sections of the top floor at a time as the construction work progressed.  Proposals from previous roofing companies outlined this as their only option.  Further concerns with creating a construction site at the hospital was that every air handler and HVAC unit providing service to the hospital, including the Surgery Center, are on this roof requiring acute care be taken to avoid DUST, FUMES and DEBRIS from penetrating the building.
PProblems with their existing roof were leaks at multiple locations that were very difficult to trace and track back to point of entry due to the roof configuration of multiple layers, insulation and fluted metal deck substrate.  Details and installation techniques on the PVC roofing membrane were poor; many of the pipe penetrations were sealed with only a bead of caulking. There were heat-welded seam failures throughout the roof at multiple locations.  Puncture holes were very prolific, from years of foot traffic in servicing the HVAC units, vibrational movement of the roof-mount equipment and thermal cycling.  In addition, wind damage to walk pads created further failures including holes in many locations of the roof.  Degradation of spray foam due to water intrusion had created a condition of nearly zero slopes to roof drains. The roof ponds ½" or more at all times during the rainy season leaving options limited to a complete tear-off and redesign or a restoration system unaffected by year-round ponding water.
Multiple attempts to stop leaks and maintain the roof were performed over the years. Contractors and maintenance crews tried everything from caulking to TPO patches, even peel and stick roofing patches. All prior attempts had failed as nothing would stick to the existing single-ply PVC roof membrane.  Several attempts were made to incorporate TPO overlay patches in larger areas with caulking as a seam-sealer and at the tie-ins.  These caulking patches peeled off within a few years.  Again, curbs and field seams leaked. Further maintenance attempts were performed again using peel and stick patches with Elastobond. Most patches did not adhere, but in some areas, those that did show adhesion only managed to hide evidence of membrane damage caused by saturation.
The hospital facility's staff discovered SureCoat Systems during their research and investigation of a good fit for their problem. Through their research, they were seeking a solution for the following:
How could they refurbish the roof surface without creating a construction site or mess involved with removing the old roofing materials?
Accessibility; Albany General Hospital is an older building with several smaller buildings confined together, restricting space. Taking up the hospital's parking areas with cranes, dumpsters, scaffolding and debris chutes were not something the hospital was in favor of as caring for patients is the hospital's sole purpose.
It was not possible to shut down vital services to the hospital; i.e. heating and air conditioning.
The roofing construction could have ZERO effect to the top corridor services; birthing and neonatal. There was no room for error negotiation on this point. The operations of this corridor could not be exposed to any fumes, dust or debris.
The hospital wanted a roof warranty that covered them under ponding water conditions, rather than a new roof that excluded it."Midway through the project, after the initial polyester and first coat, we had several rain storms. The semi-completed system held and we did not have any leaks!" stated Eric Keithcart, owner of Premium Roof Services.  Look around Premium Roof Services website.  This PVC single-ply roof membrane was approximately 15 years old at time of restoration."I have been in the roofing industry for over 25 years, and have seen and used many coating products. This was our first project using the SureCoat roof restoration system. This project involved a large number of details, and suffered from extreme ponding at multiple locations. Logistics and building use issues made removal of existing systems, and installation of any other type of system, next to impossible." Eric Keithcart – Premium Roof Services, Bend, OR