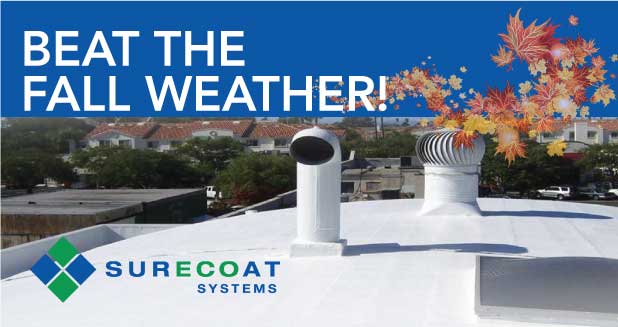 With the Best Kept Secret – SureSet by SureCoat Systems
In California, our fall and winter can be extremely humid, cool and wet, and as in many other areas of the country, we see storms intermittently rolling in. As you know, rainy/damp days can present challenges when performing flat roof repairs or restorations in cooler weather and require a constant watchful eye for storms. So naturally, it slows down the roofing season for many contractors and building owners.
Unfortunately, the average elastomeric coating product experiences a slow drying process and is susceptible to early wash-off if not cured properly before exposure to dew and rain. What ends up happening is that many roofers turn to "quick-fix coatings". The main problem with that "quick-fix" is that most of the other coatings don't have a long lifetime, and when they dry, they tend to form a hard shiny shell that ends up cracking, chipping and peeling a few months down the road. Turning what was thought to be a fix, into a lot of wasted time, labor, and ultimately money.
So as a roofing professional, before you buy any roof coating, ask yourself these real questions:
Does the product dry quickly?
What type of adhesion does it offer?
Does it remain flexible over time?
Does it have a warranty that stands behind the quality of the product?
Does it save you and the building owner time and money?
Does it provide you with an accessible team of experts when you have questions?
Does it dry quickly?
Yes, SureCoat Systems offers an affordable and renewable solution with SureSet. So much so in fact, that Southern California contractors have successfully worked through some of the wettest winters with our product. SureSet is our quick-drying roof coating that cures within 2-12 hours. It is easy to use, simple to apply and is engineered with the same high-grade raw materials as our other SureCoat roof coatings, and it can be applied right over existing surfaces, no tear-offs required. SureSet, and the reinforcing fabric embedded into it, allows the roofer to attack the most vulnerable leaks and roof repairs even with the threat of unfavorable weather.
What type of adhesion does it offer?
SureSet was designed to have high strength, stick like crazy, be seamless, and act as the base coat for the regular SureCoat product, both with the lowest perm ratings in the industry. SureSet can be used for flat roof repairs in colder weather to seal roof seams, roof jacks, HVAC curbs, parapet walls, drains, waterways and to fix leaks where ponding water exists.
Does it remain flexible over time?
With an elongation rate of 400%, it has been applied to many roofs in colder winter susceptible areas such as New York and Canada.
Does it have a warranty that stands behind its product?
Yes, SureCoat offers a renewable warranty when installed by an approved contractor, and is the only roof system with a warranty that covers ponding water on flat and low-sloped roofs.
Does it save you time and money?
Yes, SureSet eliminates the need for multiple repair trips, alleviates the worry and hassle of temperature restrictions, morning dew and unexpected showers that prohibit the use of traditional roof coatings. And, quick-set technology saves on roofing labor and downtime.
Does it provide you with a team of experts easily accessible when you have questions?
Yes, SureSet has been used all across the United States, in Canada and overseas and has been successful in a variety of fall and winter-like conditions. SureSet is the reliable, quick-dry product to have on hand and our team of product specialists is just a call away.
Case Study: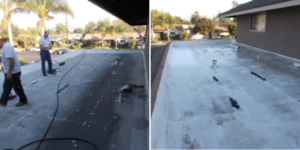 The roof on the left was previously repaired with mastic, and as you can see, it was cracked and chipped in an area that had the worst leaking. We got to work cleaning the roof to prepare for installation.
The roof on the right shows how we repaired this area first and then worked to restore the rest of the roof with SureSet too. The finish coat of SureCoat was later applied when the weather was more stable making the roof eligible for our 10-year renewable warranty.
SureSet is easy to install!
The installation of our SureSet quick-dry roof coating couldn't be more straightforward. In less than three minutes, we will show you how to complete a waterproof commercial roof repair Click here to view our install video.
SureSet is the must-have fall weather roofing tool that your workers will be requesting. Call us at 877-8 Be Sure or visit our website at www.surecoatsystems.com to get started today!