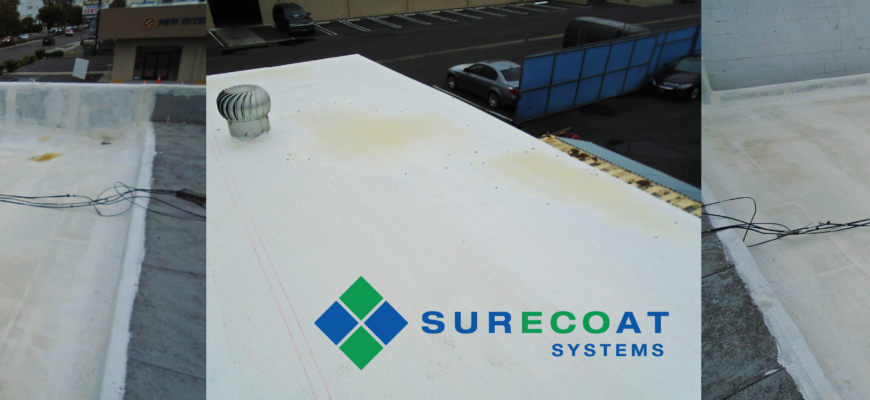 Avoid project delays, and profit loss due to rainy weather
Image above:  SureSet repair completed at 2pm, rain hit at 6pm. No leaks or coating damage reported after rain.
In our last blog, we explored the challenges contractors face when repairing a gravel roof. In this blog, we will address yet another challenge faced by contractors almost everywhere in the country – Rain.
Rain makes all things grow. If you are in landscaping, rain can be a great thing, but in roofing, well, that's another story. Rain causes project delays and creates ponding water situations that increase the chance of a leak, so of course, it's no wonder that it's during those rainy times that your customers will call you for leak repairs. Being able to tend to these calls quickly gives you a winning edge over your competition and helps avoid bigger leak and ponding issues that compromise the integrity of their whole roof.
To add to the challenge, the World Meteorological Organization (WMO, www.wmo.int) describes the term "severe weather" as "…any dangerous meteorological phenomena with the potential to cause damage, serious social disruption, or loss of human life." Accordingly, the definition is vague, and lacks any specificity for the construction and roofing industries. This means that what your customer sees as a reasonable weather delay and what you see as one may not be the same, putting your business in a potential battle over "acceptable missed deadlines".
SureCoat Systems offers a convenient, high quality and easy to install solution for you, SureSet.
SureSet is a quick-set coating used to embed high strength Poly-Mesh for waterproofing of flat and low-sloped roofing membranes, saving you from having to stop roofing because inclement weather is coming your way. Within reason, installation guidelines and temperature, this product can be used just about any day of the year to repair or restore a roof.
SureSet was designed to have high strength, high surface adhesion, be seamless and act as a quick-dry base coat used to attack the most vulnerable roofing issues. It is a class 1 waterproofing system and is cool roof rated once it is top-coated with SureCoat.
SureSet is engineered with the same high-grade raw materials as other SureCoat roof coatings but is fast drying and cures within 2-12 hours even when applied in temperatures as low as 40°F. Succeeding where traditional mastic and acrylic roof coatings fail.
Bottom line: SureSet eliminates the need for multiple repair trips, alleviates the worry and hassle of most temperature restrictions, morning dew and unexpected weather that prohibit the use of traditional roof coatings. And, quick-set technology saves on roofing labor and downtime. The SureCoat Roof System can be used to repair roof drains, waterproof ponding areas on a flat roof and seal roof seams, penetrations and ducts. SureCoat flat roof repairs are proven to last up to 10 years.
For proper results and sustainability, SureSet must be top coated with original formula SureCoat within 4-6 months.
SureCoat products are proven to work over the following substrates:
Watch this three-minute video, on how to complete a waterproof flat roof repair using SureSet. Click here to view our install video.
Call 877-823-7873 or click today to request pricing, specs, product data or for an Approved Contractor.
Related Products