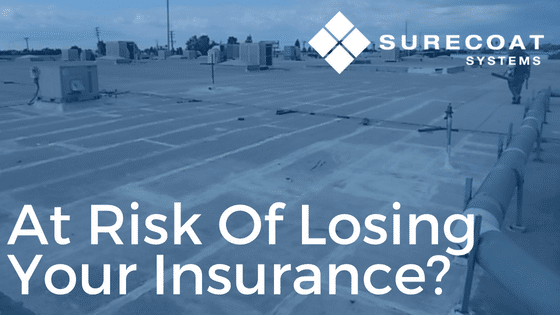 When was the last time you looked at or inspected your roof?
If you're thinking "uhh, yeah, about that…" it is okay, you are not alone, many people aren't roof experts. And if you do look at your roof, it might look okay, but there could be possible underlying issues. It's just hard to know unless you have a licensed professional out for inspection, but who has the time or money for that?
Well, at a minimum, annual roof service and maintenance is essential when it comes to prevention, general upkeep, safety, and, course,  building INSURANCE!
You may not know it, but if your roof is in poor condition, your insurance company could require a cash value percentage of the roof be excluded from your insurance policy; they could eliminate roof coverage; or they could cancel your policy altogether. Now, this is providing your insurance company requires a pre-coverage inspection for a new policy or the renewal of an existing policy. However, pre-coverage inspections are becoming an industry standard.
Insurance companies want to reduce the risk of payout and repair to a roof – protecting their investment in you, which makes sense, but is a headache to many because this is at the property owner's expense. Especially, if they are coming to you and demanding maintenance, repairs, or even a new roof in say, 30 or 90 days, even though you might have time left on the lifespan of your roof. It's frustrating, and it does happen.
Our best advice for this situation? Find yourself a reputable licensed professional to thoroughly inspect your roof to help prove that your roof is actually insurable. It is hard to persuade insurers that they are wrong but having a professional back you is a good start when it comes to reaching an agreement on the current condition of the roof and building for insurance purposes.
An example of insurance at risk is a property that JemStar Construction worked on just down the street. It's a commercial property, and unfortunately, there was significant negligence when it came to maintenance. Any claims that were filed were denied because they didn't maintain the level of expectation that comes with keeping insurability. The building owner had 30 days to fix the disrepair or their insurance would be canceled.
From an investment perspective, whatever maintenance or repairs you put into your roof stays with your property. Better yet, with SureCoat, any repairs can become part of a complete roof system.  So, roof repair money is not wasted, it is the start of a new roof.
JemStar stepped in to handle some reframing that needed to be done – splicing into the old roof, and then we went in and installed the SureCoat Roof System, effectively salvaging and extending the life of the roof that had come under such ruin.
The Problem With Losing Insurance
Since insurance is usually a condition of having a mortgage, property owners find themselves in a jam when their insurance company threatens to or actually cancels coverage. Ultimately, this impacts your future insurability making it harder to find coverage again and/or costing you more by having you pay higher rates of insurance with your new insurance company.
Depending on the reasons for needing repairs, updates, or maintenance, there are always several options on how you can work with your insurance company to avoid any cancelation. And remember, expecting the insurance company to pay you a boatload of money for your claim isn't the reality. They have the right to protect their investment in you. Make sure you're doing your due diligence when it comes to regular maintenance, and you'll be protecting not only your investment in your property but their investment in you.
Get in touch with one of your waterproofing experts for more information on how to extend and sustain the life of the roof you have now. With a SureCoat partial roof restoration, you can attack your most vulnerable problem areas now and then finish the rest of your roof when your budget allows. Call us at 877-8 BE SURE or email us at info@surecoatsystems.comto get started today.
As a contractor, if you're looking for a service and maintenance program to help your customers and your business. Check out our recent webinar for RoofersCoffeeShop!