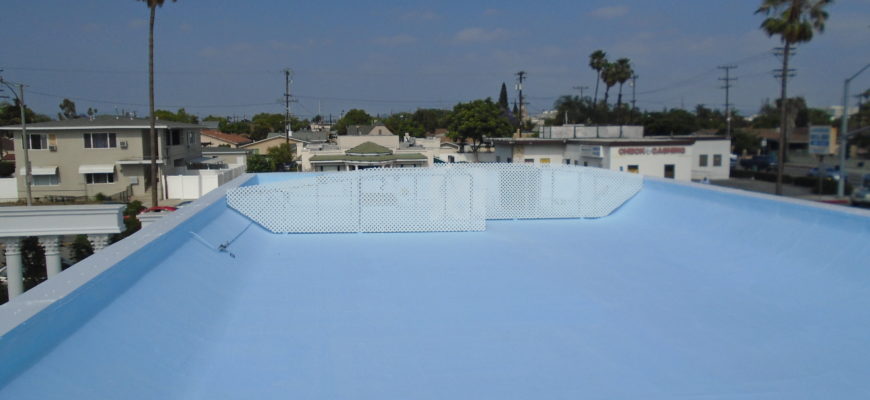 When a little roof leak inspires a fun new way to give.
After a devastating fire a few years ago, most of the main restaurant building was rebuilt. The ballroom received a facelift with the reopening of the restaurant, but a new roof wasn't an option at the time for the West Wing.  Unfortunately, it started showing a few new roof leaks with last season's heavy rains. Originally built in 2010, the flat roof looked older than its nine years and had been repaired many times.
SureCoat Systems is proud to share that the Anaheim White House West Wing now has a new roof, this new roof was donated as our way of saying Thank You. Serato who is a renowned chef, author and philanthropist is the owner of the Anaheim White House, and founder of Caterina's Club a non profit organization that serves over 5,000 warm nutritional meals every night to underprivileged children in the Orange County area.
This last year he found leaks in the roof of the West Wing and with everything he has on his plate, he knew he needed help.  Although not a part of the original historic building that houses the restaurant, the Anaheim White House's "West Wing" is a 2,000-square foot banquet hall which is home to many special celebrations. But most important to Chef Bruno, it is the much-needed space for Caterina's Club events & training. With a focus on feeding 5,000 kids per day, the space is essential to one of Orange Counties most renowned charities.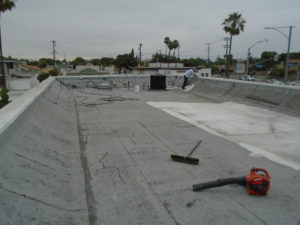 BEFORE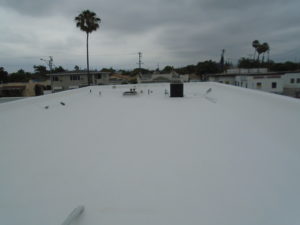 DURING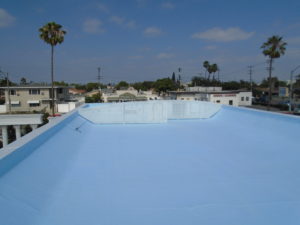 AFTER
Luckily, Caterina's Club volunteers, Mickey and Vickie Sharples of RoofersCoffeeShop.com had some ideas for the new roof. "The Sharples introduced us to Carolyn Martinson and she came for dinner," stated Serato.
Carolyn Martinson, owner of Surecoat Systems of Southern California, a roof and waterproofing restoration coatings manufacturer, is a big fan of owner chef Bruno Serato and the work he does with Caterina's Club. "What better way to help Caterina's Club than to help the restaurant that serves as its foundation," noted Martinson. "We knew we wanted to restore their West Wing roof for free and knew just the contractor to do the job. This project had to be done without damaging the beautiful ceilings or fixtures in the ballroom and needed to hold up to constant ponding that can be prevalent on flat roofs."
The new roof features a specially designed roof coating system, developed by SureCoat Systems; it is a seamless, liquid applied,  fully reinforced roof system with one of the lowest perm ratings in the industry. They chose a blue color to reflect the sky since the roof can be seen from other rooftop areas. Using the SureCoat roofing system eliminated the need for removing the old roof which could have damaged the beautiful existing interior ceilings and fixtures.
SureCoat waterproof coatings are Title 24 compliant products, have no odor, reflect the heat and can withstand ponding water. This was an important aspect for the installation team in order to provide the cleanest, odor-free worksite possible for the restaurant while applying a premium roofing system. The new roof can be renewed with a fresh topcoat every 10-years without replacement and can be extended for the life of the building.
"We are thrilled with the new roof and the ease of installation. We are so thankful for the generosity of SureCoat Systems & JemStar Construction. They are welcome for dinner anytime."
"It was an easy decision to donate the materials for this project and our Platinum approved contractor JemStar Construction donated the labor. "We are flat roof experts and provided a long term sustainable solution to Bruno's roofing issues so he could do what he does best, feed the children. It was our pleasure to be able to help Bruno and Caterina's club in this way," Jesse owner of JemStar Construction concluded. "Actually, it was, in a way, a gift to us. It was a fun project and it is exciting when you are doing something for the right reasons. We also got to be creative with the roof which is something we seldom get to do."
SureCoat Systems offers high quality, sustainable, environmentally advanced waterproofing and energy saving coating solutions to the professional building industry with product warranties that express our confidence. Call 877-823-7873 to speak with a SureCoat Systems Product Specialist today or visit www.surecoatsystems.com.