SureCoat Roof Coating Products are waterproof roof coatings for waterproofing and to increase reflectivity of low sloped and flat roofing including commercial roofs, industrial roofs, residential roofs and all other types of flat roofs. The SureCoat Roof System is comprised of the highest quality coatings on the market today.
Our products exceed Energy Star and Cool Roof Rating Council (CRRC) requirements and are at the top of their class in thermal emittance and overall durability. Best of all, this system is designed to perform where other systems fail, in the ponding areas and flat roof areas.
The cross-linked, hybrid nature of these products make SureCoat waterproofed roofs eligible for a written renewable manufacturer's warranty that covers ponding water on commercial flat roofs, industrial flat roofs and even residential flat roofs. We have several sizes of our unique SureCoat Poly-Mesh that can be embedded in the system to increase tensile strength allowing the roof to thermal cycle without tearing for the life of the system.
The SureCoat Roof System can be renewed indefinitely (every 10, 15 or 20 years) as the previous system acts as a base for the new system, saving the building owners thousands of dollars in replacement costs.
Once a SureCoat Roof is installed, the building owner's roof budgets go down every 10-20 years, rather than up. SureCoat Roof Systems are easily renewed by an Approved Contractor with an inspection, cleaning and top coat application at the end of the warranted period. All of our products are made in the USA!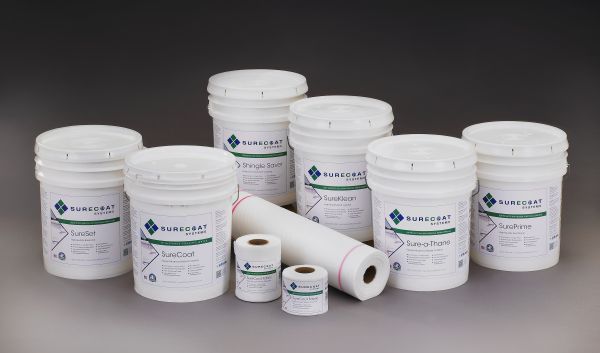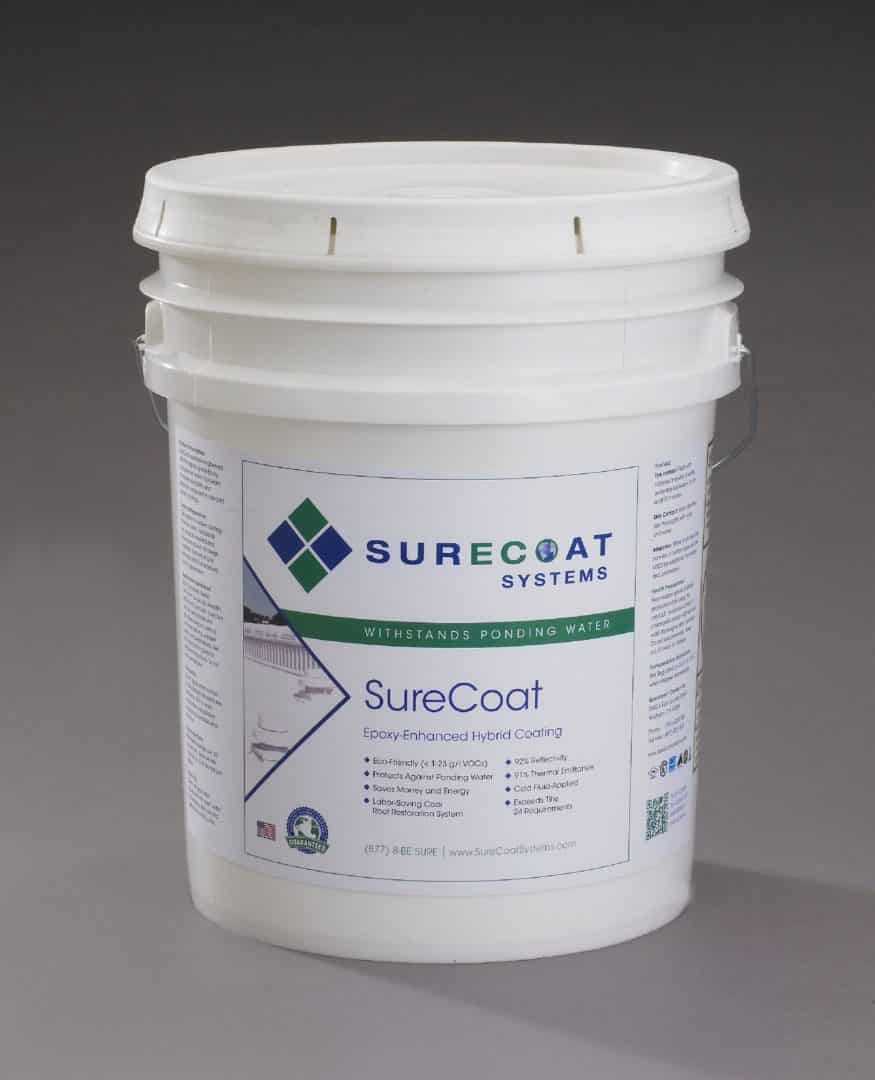 SureCoat
SureCoat is a flexible, high solid, single component, waterproof, fluid applied
roof coating
that is water based and moisture cured.  SureCoat is specially engineered for low slope and flat roofs including flat polyurethane foam roofs (SPF) and
metal
roofing. The high solid content of 80% provides a thick, flexible, self-adhered and self-flashing seamless membrane that is resistant to animal fats, most chemicals, pollutants and discourages bird life damage. It is a Super VOC compliant coating at 1gram per liter.
This cross linked, epoxy hybrid, polymer coating has a perm rating of .0025. SureCoat is engineered to withstand continuous immersion under water for up to 30 days when installed per specification and properly cured. High grade Tio2 with Nano particles are used to produce higher reflectivity and better cleaning. The highest grades of raw materials are used including four proprietary modified acrylic and epoxy resins. This increases durability and adhesion compared to standard acrylic and urethane coatings. It is used to restore, repair, and protect all types of existing roof systems including those that pond water. When installed by a certified contractor according to specifications, a system has a renewable warranty that covers leaks in ponding areas. Title 24 compliant. Additional certifications are pending.
The highly reflective properties of SureCoat Systems' roof coating products make them perfect under residential and commercial roof mount solar systems. The high viscosity and high solid content make them a great value for the cost. Every gallon leaves approximately 10.5 dry mils per gallon per square.

Sure-a-Thane
Sure-a-thane (pronounced sureathane) is a single component, water based, epoxy enhanced Cool Roof coating that is fluid applied and moisture cured. Dynamic adhesion and durability is produced using proprietary modified epoxy resins and a urethane similar resin that is UV stable. The high solid content of 81% creates thick flexible seamless waterproof membranes. This cool roof coating holds up to ponding conditions with a perm rating of .019. It is self-adhered and self-flashing. High grade Tio2 with Nano particles are used for higher reflectivity and better cleaning. Sure-a-thane and fabric are used to create a solid core roof system that remains waterproof and energy efficient as it wears. With only 23 grams per liter, it is VOC compliant in the strictest areas. It is also Energy Star Approved, Title 24 compliant and rated with the CRRC (product ID 1098-0001). Sure-a-thane has an initial SRI of 108%; and 102% aged making it eligible for LEED credits. Sure-a-Thane retains high emissivity and reflectivity values. Sure-a-thane meets or exceeds FM standards for Class 1 fire resistance, windstorm and hail resistance.  Sure-a-thane is accredited by the Spray Polyurethane Foam Alliance (SPFA), a business unit of the American Plastics Council. When installed by a certified contractor according to specifications, a system has a renewable warranty that covers leaks in ponding areas.
Black mastics get brittle, dry and crack in 6 months to a year when used on roofs. They are for temporary repairs but, unfortunately, have been mistaken as permanent repair solutions at joints, penetrations, and on other seams or areas that split. Most new roof systems have miles of seams and holes cut in to the rolled roofing to go around equipment curbs, penetrations and skylights. To seal these or batons, seams, and fasteners on metal roofs, mastics are often used. When used in areas such as these, water intrusion is inevitable, as mastics are not permanent watertight sealers.
SureSet
SureSet has been engineered as a base coat with the highest grade raw materials and polymers to provide maximum durability when installed in conjunction with the other components of The SureCoat Roof System providing increased durability, elasticity and
waterproofing
properties on flat and low slope roofs. SureSet is a fast drying waterproof membrane used to embed reinforcing polyester on a roof as part of The SureCoat Roof System in cool weather. SureSet can be applied in temperatures as low as 40 degrees Fahrenheit and cure within 12 hours to stop leaks at penetrations, around equipment curbs, skylights, seams and as a complete base coat of The SureCoat Roof System. Use SureSet when inclement weather conditions prohibit the use of original SureCoat or Sure-A-Thane as the base coat of The SureCoat Roof System due to limited dry-time, weather or temperature restrictions.
Applicable substrates include: BUR/Cap Sheet, Metal, SPF-Foam, All types of Single-ply, Mod/BH, EPDM and Concrete. SureSet can be used on flat and low slope surfaces, vertical surfaces, flashings, parapet walls, and penetrations.  
NEED MORE INFO?
Contact Us Here…  or Call us at 877-823-7873 TODAY!
SureCoat Poly-Mesh
SureCoat Poly-Mesh is used for additional tensile strength and is recommended for all flat roof applications. SureCoat Poly-Mesh is a unique woven polyester mesh of uniform thickness with voids large enough for saturation. This allows the base coat of a SureCoat or Sure-a-Thane application to penetrate through and bond to the topcoat. The finished product is a high tensile strength roof system without any cold joints or delamination. SureCoat Poly-Mesh is a soft flexible material that contours to the roof, around penetrations, curbs, transitions and other roof equipment for easy reinforced repairs and full restorations. Other added benefits of SureCoat Poly-Mesh are: 1) the labor savings; 2) the material cost savings because the poly-mesh absorbs the coating much better than other fabrics used in roof systems. Therefore, it takes less coating to make the SureCoat Poly-Mesh lay down on roof surfaces.
Fabric is used differently in almost all two-part coating systems. Two incompatible materials, typically black asphalt emulsion (the oil based waterproofing) and white acrylic water based roof paint (for reflectivity), do not bond to each other. The fabric is used to hold the acrylic to the asphalt waste byproduct. Most always the white coating peels away from the black emulsion on flat and low slope roofs, exposing the heat-absorbing waterproofing. This never happens with the SureCoat Roof System.
SureSkrub
SureSkrub (formerly SureKlean) is a fresh smelling, biodegradable, high quality roof cleaner made to clean and etch existing roof materials, especially single ply membranes, in preparation for The SureCoat Roof System installation. SureSkrub is used to remove the UV degradation of factory-applied glaze or dirt, and to etch the surface properly to insure excellent adhesion of The SureCoat Roof System's epoxy hybrid coating. Special equipment is not necessary to use SureSkrub or any of The SureCoat Roof System products. However, when reconditioning a large existing single ply roof, a floor scrubber with a scotch-brite pad can be used to make the cleaning process go extremely quick and easy, saving both time and money
SureSkrub can be used to clean mastics off a roof, metals; including sheet metal, Kynar, aluminum and steel, as well as
TPO
, PVC, EDPM, Hypalon, and many other rubbers and metals. SureSkrub works on anything from engines to floors quickly and can be used right out of the pail or it can be diluted to appropriate ratios for the task. Most contractors prefer using it full strength when preparing a roof for reconditioning. Pour it on the roof or other surface, agitate with a brush, broom or scrubber until the dirt is picked up in the cleaner, let it sit for 15-20 minutes agitate again and rinse. It is that simple. SureSkrub is also used to maintain existing SureCoat Roof Systems to keep them bright white and highly reflective. High profile buildings such as the South Coast Air Quality Management District and other large properties with solar panels, are common facilities that utilize the sustainable energy savings of a SureCoat Roof System by having their roofs cleaned every 18 months to 3 years.  (Call 877-823-7873 for coverage rates.)