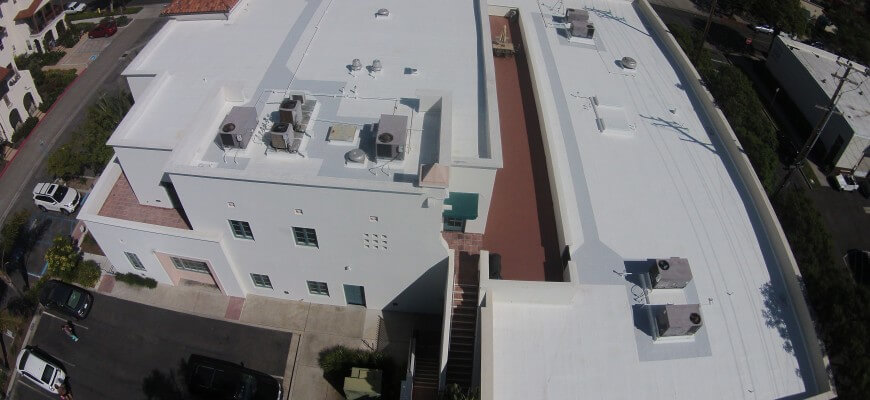 Platinum Approved Contractor, Pacific Roofing Systems, keeps 27,000 square feet of roofing materials out of landfills in Santa Barbara, California. 
With 40 years combined roofing experience and knowledge, Pacific Roofing Systems is well versed in all roofing applications and strives to be on the cutting edge of green roofing technologies.  It is with this knowledge and unparalleled quality craftsmanship that Pacific Roofing Systems designed and built a complete roof restoration system for the Visiting Nurses & Hospice Care facility, saving 27,000 SF of roofing materials from landfills.  Utilizing only the best roofing products, Pacific Roofing Systems offers premier roofing, waterproofing, decking and sheet metal construction services throughout Southern California.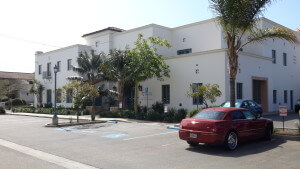 Since 1908, Visiting Nurses & Hospice Care has been dedicated to providing comprehensive home health and hospice care related services to the community of Santa Barbara, California.  From the Spanish Flu epidemic in 1918 to the National Hospice Demonstration Project in 1980, for over 100 years, Visiting Nurses & Hospice Care has built a foundation to promote health and well-being throughout their local community.
The granulated mineral cap sheet roofs of Visiting Nurses & Hospice Care suffered from chronic leaks with delamination at seals and cracks around pipe penetrations.  These failures allowed for water infiltration into the roofing system and fed leaks into their buildings.  Other roofers were hired to perform roof leak repairs but their traditional mastic patches proved to be an ineffective solution.  Each mastic repair eventually dried out and cracked, opening up the areas again to water intrusion.
In an effort to solve their roof leak issues once and for all,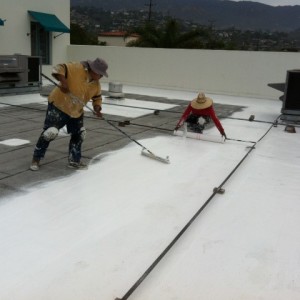 Visiting Nurses & Hospice Care called in bids for a new roof system.  Upon initial consultation with Pacific Roofing Systems, Visiting Nurses & Hospice Care was convinced they wanted a new TPO roof.  Pacific Roofing Systems met with the owners and presented a bid for TPO (the basis of design) and an alternate for the SureCoat Roof System (SCRS).  The owners considered a TPO system but lost interest after hearing about the superior elastomeric characteristics of the SCRS.  The owner's decision was swayed by the monolithic properties of the SCRS, elimination of roof tear-off costs and the unmatched SureCoat Systems' roof warranty which states performance and protection against ponding water conditions.  Additionally, the owners realized tremendous long term value in the SCRS for the fact that a SureCoat roof is highly solar reflective, heat emissive, Title 24 compliant, and Energy Star approved.  Learn more about the SureCoat Roof System here…
Parking and roof access was also a major challenge on this project.  A roof tear-off would have resulted in project delays, demanded significant displacement of parking spots and costly tear-off and dump fees.  After presenting the differences between a traditional TPO single-ply roof system and the SureCoat Seamless Single-Ply roof system, it was clear to the owners that the SCRS was their unanimous choice.
Pacific Roofing Systems installed a 62 mil, fully reinforced, 20-Year Renewable SureCoat Roof Restoration System over each building for a total of 27,000 SF.  For additional durability, Pacific Roofing Systems installed a non-slip walkway coating system as a path for service access to HVAC contractors.  This new walkway will provide additional protection to heavy foot traffic and additional slip resistance during routine HVAC equipment maintenance.
"Do you know the feeling of confidence and conviction when you buy a high quality product?  The SureCoat Roof System embodies the performance and durability that gives contractors and building owners' confidence and conviction that SureCoat will protect their most valuable investments.  Pacific Roofing Systems enjoys and appreciates the professionalism and unparalleled customer service provided by the SureCoat Systems' staff.  The service provided by SureCoat Systems from training, product literature, marketing, product support, order processing, technical support, and warranty processing has proven to set the standard in the industry."
Alan Stovesand, Pacific Roofing Systems – Dana Point, California
Pacific Roofing Systems takes pride in utilizing the best roofing products, superior craftsmanship and expert customer service on every project. To learn more about Pacific Roofing Systems click here.
Click here to contact SureCoat Systems or call
877-823-7873 for installation and pricing information.