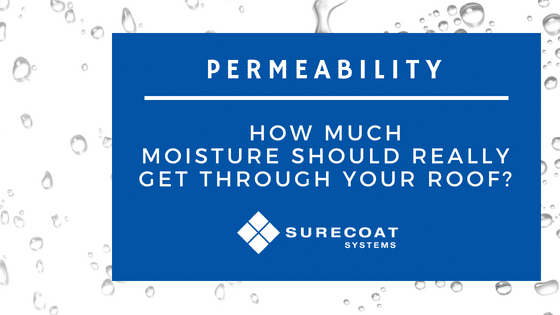 When you hear the word protection, the first thing that comes to mind is probably not a roof. However, when you think about it, a roof is a huge source of our daily protection. It protects us from the wind and the rain, the ice and the snow, the extreme heat and the bitter cold, and the daily beating of the sun. Between normal wear and tear and extreme weather, conditions on the roof can be quite severe. All of these elements work together to break down the materials creating your roof and this is just one reason why SureCoat is an important component of any roof restoration system.
With so many different coating products, how exactly are you supposed to know what to look for to ensure you're picking the right solution? It's impossible to look at two different gallons of white goo and predict which one is going to perform better than the other.
You're Right, but We've Got Perm Rating to Solve this Challenge
Specific guidelines have been established for testing and approval of liquid-applied roof coatings that help demonstrate how a product performs and if it will work to specification. Important standards tested are things like viscosity, elongation, tensile strength, accelerated weathering after specific lengths of exposure, adhesion, tear strength, permeability, UV resistance and low-temperature flexibility. Creating a waterproof barrier is the ultimate goal of any roof system, and that's why we want to focus on one specific and critical standard in this post, and that is permeability (also known as the perm rating.)
What is Permeability?
Permeability is the state or quality of a material or membrane that causes it to allow liquids or gases to pass through. As we mentioned above, there are hundreds of white coatings on the market, and some are waterproof to a certain degree, and some are not. The property of permeability varies greatly depending on the type of coating and the quality of the ingredients. For example:
Acrylic coatings are typically very breathable, meaning they have a high transmission rate of liquids or gases. These coatings are for decorative use and some UV protection; NOT waterproofing.
Silicone coatings are also breathable and perm ratings vary based on the blend and application thickness. Typically ratings are 1.000 to .0600 for silicone.
Single ply roof systems such as hypalons, neoprenes, butyl rubber, etc., have perm ratings in the .0400 to .0800 range.
The SureCoat Roof System is rated at .0025 making it the "best in class" waterproofer. Add that to the other cost-savings advantages and the choice is obvious; even simple. SureCoat – "When it has to be waterproof and affordable."
It should also be mentioned that a perm rating should not be confused with resistance to weathering. Formulation and installation specification are also factors that help ensure optimal performance and adequate weather resistance.
"Best in Class" Perm Rating
When it comes down to it, the most important thing to remember is the lower the number, the better. Now, keeping that low number rule in mind, let's look at the classes of ratings. A perm rating of less than 0.1 is considered a Class I barrier meaning that it is considered impenetrable by any liquid or gas – AKA the best in class because it is completely waterproof.  A perm rating between 0.1 and 1 is considered Class II meaning that it is semi-permeable, or some transfer occurs, and a perm rating between 1 and 10 is a Class III permeable material meaning that a liquid or gas can fully penetrate it – AKA not water resistant at all.
The Bottom Line
If you're in the market for a roof coating restoration system, make sure you do your research and weigh your options. If you take the time to read the labels or check out a products website, it's easy to see and compare ratings and approvals that meet specific standards or pass certain tests verifying a product's performance. And remember, when it comes to perm rating, lower is always better.
Are you in the market for a waterproofing roof system to extend the lifecycle of your roof? At SureCoat Systems, we have one of the lowest published perm ratings for elastomeric roof coatings at a .0025. That is way less than 0.1 meaning we are a Class I rated roof system, absolutely no moisture penetration here. The proof is in the numbers. To get started visit www.surecoatsystems.com or call us at 877-8 BE SURE to talk to one of our waterproofing specialists to get started today.