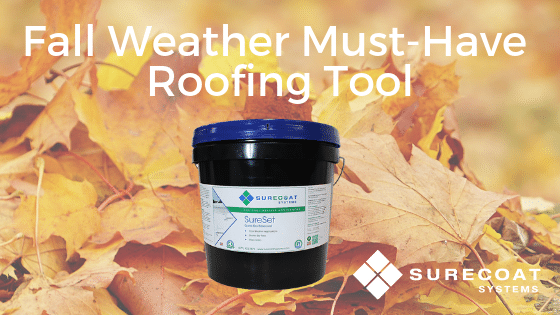 If you've been in the coating business for a while now, then you know what it's like to be a weatherman, right? The weather always impacts the dry times for water-based products. It's inevitable that you'll catch a shower or a rainstorm no matter how much you watch the weather channel or monitor temperatures and dew point spreads. And let's face it, that's way too complicated when you have many projects to manage. The problem is when you work in areas that are faced with some moisture or temperature restriction, it does matter – especially now that fall is in full swing.
Super VOC compliant and Zero VOC content coatings are elastomeric and susceptible to early wash-off if not cured properly before exposure to dew and rain. Many coating manufacturers have an elastomeric product and some, like SureCoat Systems, have already switched to only manufacturing solvent-free, elastomeric coatings and sealers. The real question is do they:
Dry quickly?
Have great adhesion?
And, remain flexible?
Our contractors have done enough work with many other quick dry waterproofing products out there to know that most get brittle and don't adhere well to the existing roof system. Out of necessity from the construction side, we worked to develop a solution, known as SureSet, that would save you time from weather calculations and having to stop your job in the middle of the day to make sure no inclement weather is coming your way. Within reason and installation guidelines, this is a product that you can use most days (depending on weather) – a product that was designed to have high strength, stick like crazy, be seamless, and act as the base coat for the regular SureCoat product guaranteeing a cool roof rating once the SureSet is top-coated with SureCoat.
Stats for SureCoat Systems' Quick-Dry Roof Coating
SureSet is a quick-set coating used to embed Poly-Mesh for waterproofing of flat and low-sloped roofing membranes in low temperatures, and within reason, inclement weather. SureSet is engineered with the same high-grade raw materials as other SureCoat roof coatings but is fast drying and cures within 2-12 hours when applied in temperatures as low as 40°F.
SureSet can be used for flat roof repairs in colder weather to seal roof seams, roof jacks, HVAC curbs, parapet walls, drains, waterways and to fix leaks where ponding water exists.
Bottom line: SureSet eliminates the need for multiple repair trips, alleviates the worry and hassle of temperature restrictions, morning dew and unexpected showers that prohibit the use of traditional roof coatings. And, quick-set technology saves on roofing labor and downtime.
For proper results and sustainability, SureSet must be top coated with original formula SureCoat within 4-6 months.
The installation of our quick-dry roof coating couldn't be more straightforward. In less than three minutes, we will show you how to complete a waterproof flat roof repair using SureSet, our fast drying roof coating for flat roof repairs in cooler weather. Click here to view our install video.
SureSet is the must-have fall weather roofing tool that your workers will be requesting.