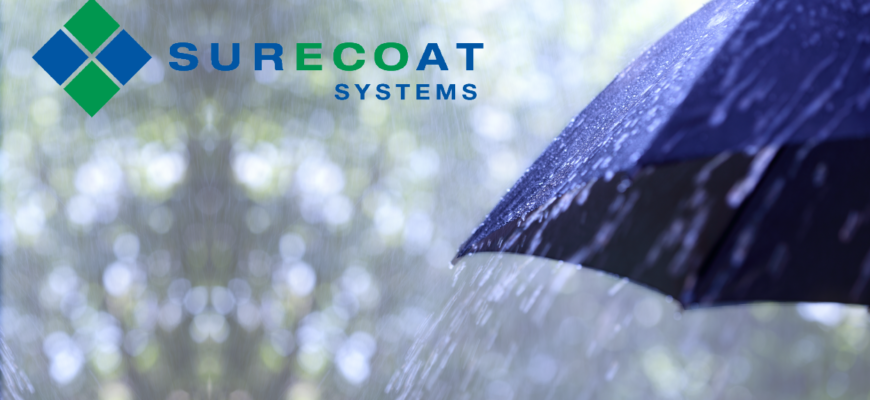 Neither Should Your Roof Repairs.
April showers are much needed for many reasons. However, they can become highly inconvenient for Property Owners; especially during COVID-19 Social distancing times, and when the thought of having someone come look at a property may not be very appealing.
Some property owners and managers will end up in a situation where temporary repairs need to be completed to keep the building dry and safe to occupy. When these repairs are completed with an easy to use proven product, they can be done quickly and will last for years instead of months. Here are some of the most common leak sources that can be repaired simply by maintenance crews or building owners.
Cracks in roof equipment curbs, skylight curbs and lenses, roof drains, and rusted or damaged equipment flashings.

 Repairing some storm damage areas
Regardless of your repair needs, here are some things to take into account before getting to work:
 Safety, Safety, Safety – Always check that you have the equipment necessary and in the working condition.

COVID-19 protection, masks, gloves, glasses and stay 6' away from others.

Ensure you have a safe working area

Be mindful of Skylights and trip hazards.

Use the proper ladder

Make sure you have all the tools you will need and that they are all in good condition.
Construction is in the essential industries' list and arrangements can be made to have as little personal contact as possible, while keeping your properties damage and leak-free during the rainy season.
At SureCoat Systems, we are here to help contractors and property owners and managers complete repairs swiftly and safely, reach out to our team of experts, they will help you with your DIY or professionally installed projects and have your roof ready for the April showers in no time!