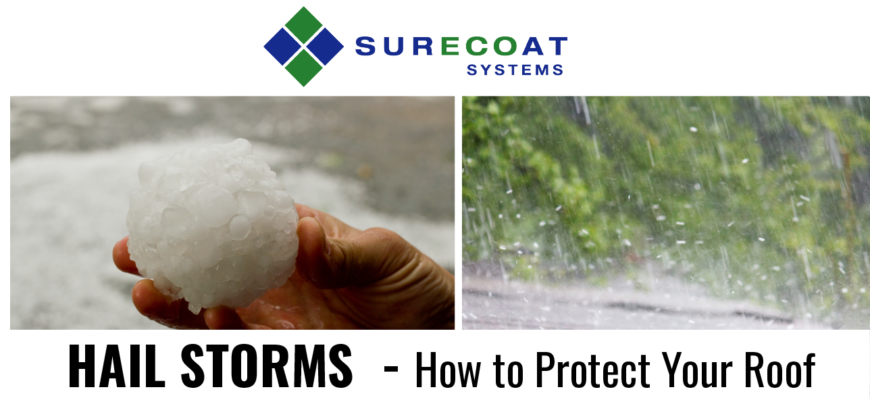 Prevent Hail Damage on Your Roofs
Hail can strike in any season, in 2019 alone there were 5,382 major hailstorms according to statistics culled from NOAA's Severe Storms database. In 2018, 4,610 major hailstorms occurred, resulting in $810 million in property and crop damage.
More than 10.7 million US properties were affected by one or more damaging hail events in 2017 according to Verisk Estimates.
Hail pellets can vary from pea size to 7" in diameter and anything larger than 1-3/4" has the potential to inflict significant damage. All too often, roofs sustain severe damage during a hailstorm but owners and building occupants won't realize any damage has occurred until their flat or low slope roof begins to leak due to latent damage.
Hail damage to buildings can be seen mostly on the roof and windows, so it's imperative to check them when the hailstorm passes. Up to 30% of hail claims are dated wrongly for their loss, considering that the damage has been noticed and claims were filed much later (up to 1 year) following the actual damaging hailstorm.
Source: Insurance Information Institute & Rocky Mountain Insurance Institute Association
Keep in mind that often the damage appears to be on the surface and many property owners may think it's cosmetic, but hail damage can reduce the lifespan of a flat or low slope roof and harm its water shedding capabilities even when it doesn't look like much.
When replacing your flat or low slope roof, consider using hail-resistant roofing products. The insurance industry has an Underwriters Laboratory standard ranking, the UL 2218 standard. The standard has four impact-level designations that will help you compare products. Roof coverings that show the most resistance earn a Class 4 rating; the least, a Class 1 rating.
A great flat or low slope roofing solution is a Fluid Applied System. A quality fluid applied system will be fully reinforced and highly water resistant to protect the roof structure of the building.  This is accomplished by using high quality resins that will create a perm rating below 0.1 and be rated as a Class 1 waterproof coating.  These systems are applied as a liquid, but cure to form a tough, rubber-like membrane. These types of roof are seamless and are typically considered self-flashing.
A great benefit of liquid applied systems is that small hail will not damage the system because of its elasticity, although large hail stones may damage it, the upside is that coated roofs can be easily repaired with another coat over the damaged area.  Many insurance companies welcome a liquid applied system because of this benefit.
The SureCoat Roof System is a liquid single-ply that has been engineered with the highest-grade raw materials and cross-linked resins to provide increased durability and elasticity protecting against the toughest ponding water, high winds and debris. It can be used to repair all levels of damage on metal roofs, built-up roofs, SPF, PVC, TPO, EPDM, Hypalon and other single-ply membranes.
The SureCoat Roof System has a perfected elongation of 400%, sustains an elongation of 160% at freezing and has an advanced tensile strength of 2800 psi. ASTM weathered testing results did not show any signs of cracking, splitting, separation or rupture when under examination; magnified 10 times through ASTM hail resistance testing which meets or exceeds FM standards.
On top of all that, the SureCoat Roof System has saved clients thousands of dollars on flat and low slope roof repairs and restorations. A great example, we helped a client save about $200,000 with no tear off or replacement necessary.
If budget is a concern, tackle your most vulnerable areas and work on the roof in sections, doing repairs or a partial roof project that is proven to protect against further damage ultimately saving time and money for both you and your insurance company.
All in all, SureCoat Systems has been applied to hundreds of flat and low slope roofs across the country where hailstorms are common.  Our coating's ability to remain flexible, durable and resist damage from future hailstorms can be translated into huge savings for building owners.
Read More about SureCoat and Hail Performance Here
Call a SureCoat Specialist at 877-823-7873 today! We can help you be prepared for the next storm so you can breathe easy knowing your property is protected.