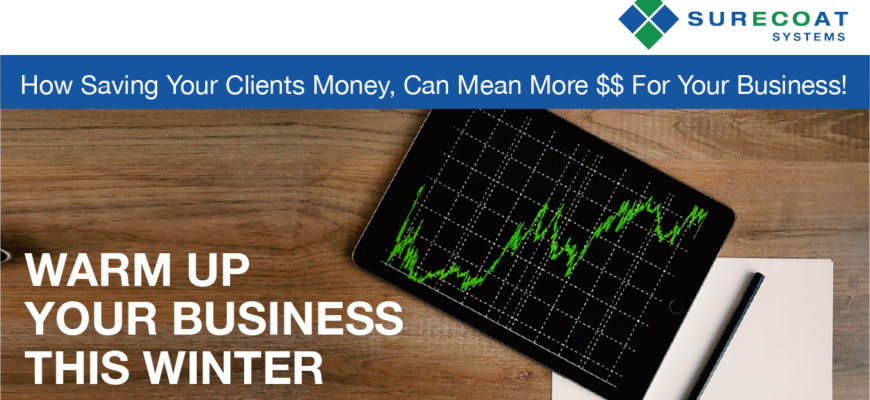 Addressing a roof leak at first sight can save you hundreds even thousands of dollars in repair costs. Don't let a minor repair turn into a major disaster.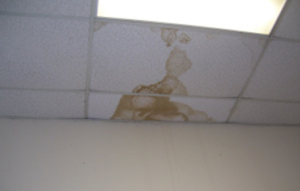 This (image above) is what the tenant sees when roof leaks are neglected or repaired with products that do not work.  It is not only an unappealing sight, but that menacing feeling overcomes anyone sitting in an office when they see those dreaded marks on the ceiling.  It's definitely not a call you want to get receive.
Many states across the US have rough winters, and we can bet that a lot of people throw some black mastic up on their roof and think "well that ought to do it!" Truth be told, it may have gotten them through the storm but, with the thermal cycling that followed throughout the winter and the summer, that same black mastic repair is no longer doing the trick this season. Mastic gets brittle, cracks and peels away every time! It's just a fact. It is not a viable, long-term solution but rather a temporary band-aid to get out of a jam.

Now don't get us wrong, sometimes building maintenance crews or contractors have to do what they have to do. That is why many contractors and maintenance crews have started using a product that really protects and will last as long as the building does. Wouldn't you say it's time you got in on this specialty product that can save your clients' assets?
When you're out on a repair, why not use a product that can be integrated? Other contractors in your area are already warming up their winter business by using SureCoat Systems' products.
Some of the amazing qualities of SureCoat Systems' white waterproofing coatings are their incomparable energy saving properties, their watertight monolithic bond, or the fact that they are literally impervious to PONDING Water.  These amazing qualities make for a high-quality product that can be applied as a repair to a leaking roof, wall or deck and later be integrated into an entirely reconditioned project.  A SureCoat reconditioned roof comes with a product warranty that even a new building or new roof cannot give you.
Do you want to solve water intrusion issues? Do you want to be able to get return customers because they loved how your repairs held up? With SureCoat Systems, you can!  Your opportunity is here to offer something that will save you and your clients money, save energy and protect your company name by protecting the buildings you repair.
Visit our website to see a full list of products available HERE
For additional product information or a project quote, contact SureCoat Systems at 877-823-7873 or visit us online.