VOC'S or Volatile Organic Compounds are emitted as gases from certain solids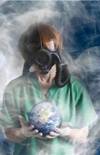 or liquids. VOCs include a variety of chemicals, some of which may have short and long-term adverse health effects.  Through the years traditional roofing methods involved using chemical or petroleum-based products with very high VOC content.  Although these methods were the norm we can no longer ignore that this can't be good for applicator or the environment, let alone the VOC fumes affecting those nearby.
In the past roof replacement and repairs needed advance planning to be done on unoccupied buildings when possible.   Extra care needed to implement these repairs included identifying ventilation sources, scheduling, additional safety concerns and communication at all levels.  In the more extreme cases the people applying these products were required to wear safety gear and respirators.
As recently as October 18, 2012, roofing fumes cause evacuation of Loma Linda emergency room.  40 patients were evacuated from the Loma Linda University Medical Center emergency room in California after potentially hazardous gas was detected in the hospital's ventilation system.  "A construction crew was on the roof doing repairs and they sprayed an adhesive on the roof. It got too close to the vents and was sucked in," said James Gray, a spokesman for the San Bernardino County Fire Department.
Just today a St. Louis Missouri news station reported that some students say roofing work at their school is making them sick.  They reported the fumes from the project is filling the halls and classrooms, giving them headaches and making some worry what they are breathing. Students at Fox High School are concerned about a roofing project that is filling the hall and classrooms of the school with tar fumes.  The bad news is the project started two weeks ago and is expected to last another two weeks.
So what is the answer?  Simple, the industry needs to start using roofing products that have low VOC's.  Someday it may be a law.   Up until the past few years a quality product that had no poisonous fumes was difficult to find but we are proud to say we are that product.  SureCoat Systems has a VERY low VOC rating.  That's just one of the reasons the California, South Coast Air Quality Management District used SureCoat on it's building.
Besides installing a premium product SureCoat Systems can help you manage a more efficient business.  You will be able to eliminate the hassle of strategic planning to protect your clients and employees from toxins.
Use SureCoat Systems products on your next project and take a whiff.  You will be pleasantly surprised and your building occupants will never know you were there, (Except that their roof is fixed!).
For more information on where to get SureCoat™
Products, specifications or information on their amazing warranty
Please contact them at 877-823-7873, 1-877-8BE-SURE or visit them on the web, www.surecoatsystems.com