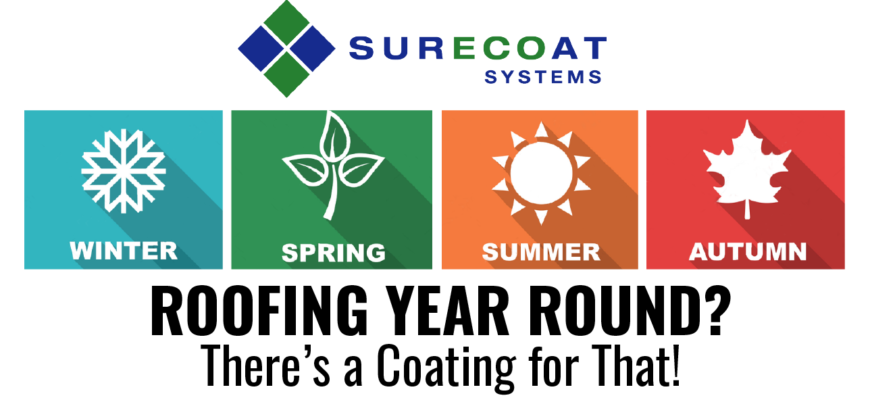 The right products that cover you every season.
Some areas of the country are blessed to see the four seasons and some are blessed not to see four seasons, it's a matter of opinion; however, no matter what part of the country and what season you are facing, there is one thing that doesn't change; that is the need for roofing. There is always new construction and repair work needed; luckily there are viable coating solutions for your roof regardless of location and weather.
Winter – Working in cold and wet conditions can be a challenge, but SureSet cures in as little as 2 -12 hours in temperatures as low as 40°F. SureSet is a fast-drying roof coating with similar waterproofing ability as our original SureCoat and has excellent adhesion to any roof without a primer. SureSet can be used for flat roof repairs in cold weather to seal roof seams, roof jacks, HVAC curbs, parapet walls, drains, waterways and to fix leaks where there is ponding water.
Spring – Finally the winter is over, the sun is out and it's time for… April showers! April showers make all flowers bloom, but can also affect your roof with ponding water and leaks. SureCoat can keep your property dry longer, it's also faster and easier to install. Another reason SureCoat comes in handy in the spring is for repairs and maintenance. A lot of roofs suffer damage during the winter months, and SureCoat products are ideal for repairing and extending the life of your roof without breaking the bank.
Summer – Working in the rainy and humid weather of summer? Looking at hurricane forecasts have you wondering if your roof will be safe? Do your properties have to deal with the summer heat? SureCoat has a perm rating so low that it will keep your roof leak-free for many years. Because our systems are seamless and completely bonded, there are no weak areas for the air to infiltrate into the structure and cause wind uplift. Lastly, when it comes to keeping your property cool, SureCoat can help reduce energy costs and will keep your building cool in the summer heat.
Fall – SureSet has been successful in a variety of fall and winter-like conditions. If you're looking for a cold weather-roofing repair, SureSet is the reliable, quick dry product to have on hand.
There are many features and benefits to white coatings and if you have not started installing coatings yet, it is time you get in and get coating! And when in doubt, do what the song tells you… Winter, Spring, Summer or Fall, all you have to do is call – call SureCoat Systems that is.
Get started today at surecoatsystems.com or call us at 877-823-7873.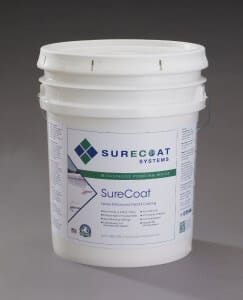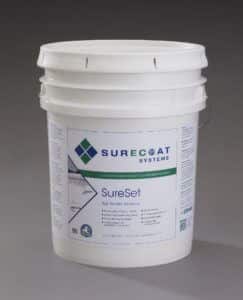 About our Featured Products:
Proven System – Many Years of Service

Fast Drying Technology

Extreme Thermal Cycling Ability

Excellent Weatherproofing

Withstands Ponding Water

Application Temperatures as low as 40 °F

Service Temps as low as -15°F

Renewable and Upgradable