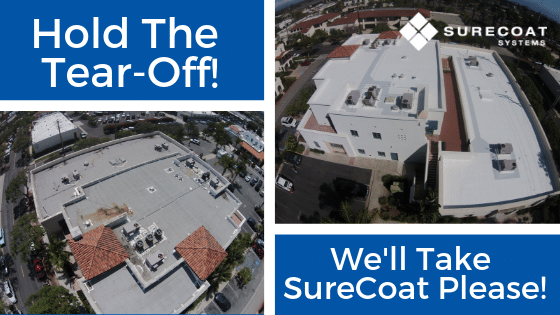 When it comes to commercial clients, Pacific Roofing Systems knows that most of the properties are rented out to other businesses and that those tenants don't really care for the ugly, dirty, noisy disturbance that comes with a tear off.
With 40 years of combined roofing experience and knowledge, Pacific Roofing Systems is well versed in all roofing applications and strives to be on the cutting edge of green roofing technologies. It is with this knowledge and unparalleled quality craftsmanship that Pacific Roofing Systems designed and built a complete roof restoration system for the Visiting Nurses & Hospice Care facility, saving 27,000 square feet of roofing materials from landfills.
Since 1908, Visiting Nurses & Hospice Care has been dedicated to providing comprehensive home health and hospice care related services to the community of Santa Barbara, California. From the Spanish Flu epidemic in 1918 to the National Hospice Demonstration Project in 1980, for over 100 years, Visiting Nurses & Hospice Care has built a foundation to promote health and well-being throughout their local community.
The Stats:
Type: Commercial Property
Scope & Size: 27,000 square feet (two buildings) of installation over granulated mineral cap sheet roofs
The current roof system in place suffered from persistent leaks coupled with delamination at seals and cracks around pipe penetrations. These failures allowed for water infiltration not only into the roofing systems but into the building as well. Previous attempts to repair roof leaks with mastic patches also proved ineffective as the repairs would also dry out, crack, and reopen problem areas to water intrusion again.
Looking to find a solution once and for all, the building owners called in bids for a new roofing system and were convinced a TPO roof was for them. When Pacific Roofing Systems met with the owners, they presented a proposal for the TPO roof as requested and an alternate, the SureCoat Roof System. Parking lot accommodation, roof access, tear-off, and dump fees were all significant challenges on this project. When the owners heard the benefits of SureCoat they realized the immediate and long-term value of investing in Pacific Roofing Systems alternate bid – no tear-off costs, no parking lot or roof access issues, the unmatched value of SureCoat Systems' roof warranty, the high solar reflectivity, heat emissive, Title 24 compliant and Energy Star approved.
"Other roofing systems use a variety of tools and generate a good bit of noise and disturbance," says Pacific Roofing Systems V.P. Alan Stovesand. "Using SureCoat Systems, overall, is a peaceful, quiet process. It's much less disruptive with virtually no intrusion compared to every other product on the market."
Pacific Roofing Systems installed a 62 mil, fully reinforced, 20-Year Renewable SureCoat Roof Restoration System over each building for a total of 27,000 SF.  For additional durability, Pacific Roofing Systems installed a non-slip walkway coating system as a path for service access to HVAC contractors. This new walkway will provide extra protection to heavy foot traffic and additional slip resistance during routine HVAC equipment maintenance.
Looking for more information on the SureCoat Roof System? Call us at 877-8 BE SURE or visit our website at www.surecoatsystems.com to get started today!