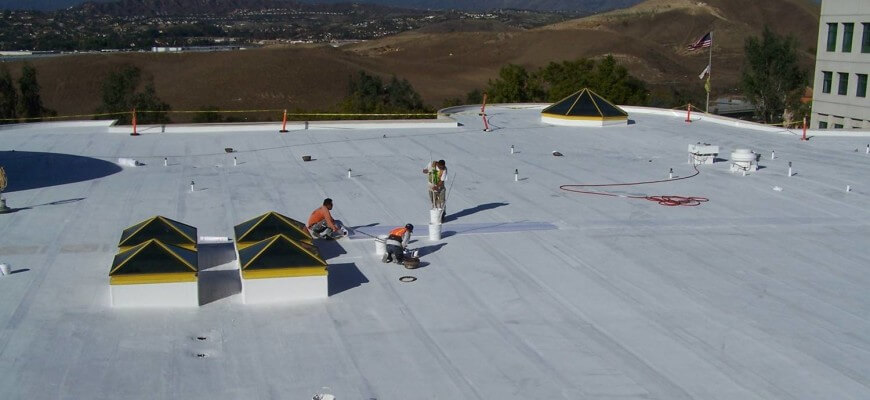 APRIL'S PROJECT OF THE MONTH IS AWARDED TO ALDEN MANAGEMENT FOR LANTERN BAY VILLAGE
SureCoat Roof System installed by: JEMSTAR CONSTRUCTION 
April's Project of the Month is awarded to JEMSTAR and Alden Management for reconditioning and upgrading the flat roof, A/C plenums and ducting atLanternBayShopping Center.  
The two companies teamed up to renovate the leaking built-up roof system and mechanical equipment, ducting and penetrations.Lantern BayVillage is an anchored business complex with thousands of square feet of flat BUR. This roof was failing throughout and had multiple roof-mount units. To remove and reinstall the HVACs, condensation lines, electrical and drain lines, satellite dishes and various other roof equipment, would have added thousands of dollars to the job cost and disrupted the tenants' business. 
By installing The SureCoat Roof System, JEMSTAR was able to install a "Better than New Roof" at an affordable price. The savings doesn't stop there… not only did the property owners feel the benefits of installing a SureCoat roof, but the savings is then passed down to the tenants as well. Due to the extraordinary reflective and heat emitting values of Sure-A-Thane (a component of The SureCoat Roof System) the tenants at this business complex are also enjoying extra savings on their energy bills of up to 30%.
This shopping center houses several different kinds of tenants including restaurants, retail shops and professional office space. This roof had hundreds of repairs and recurring leaks from failed repair attempts. Ponding water and congestion from the mechanical equipment made this a perfect candidate for a SureCoat System. This project was completed during regular business hours and because the roof mounted mechanical equipment stayed in place, the tenants were not inconvenienced. No tear-off, no fumes, no down time and best of all no leaks!
CLICK HERE to read JEMSTAR CONSTRUCTION'S blog on Lantern Bay Village
Congratulations and Thank you Alden Management and JemStar Construction!
Related Articles