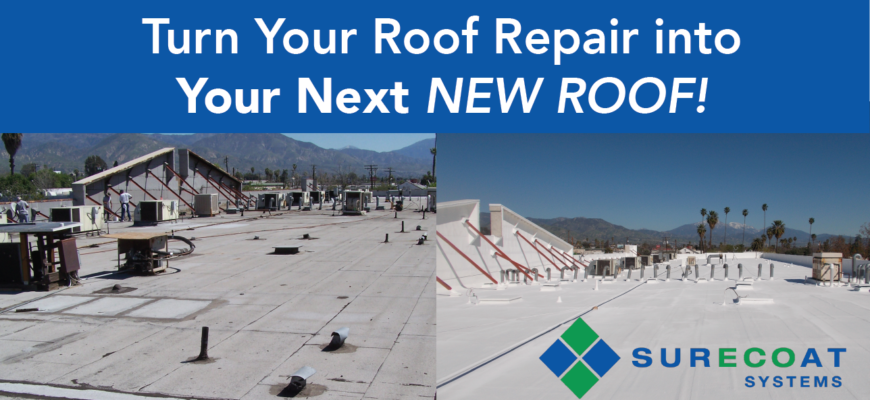 Don't Stress- Buy a New Roof Over Time
In our last blog we explored the cost benefits and reasons for regular roof inspections. In this blog, we will continue addressing repairs. This time, we will show you how you can use repair expenses toward a brand new, fully warranted roof system.
Some products in the market resolve an immediate need for a "quick fix", but what if you were able to address your roof issues immediately, affordably and correctly?
SureCoat Systems offers just that! We offer a variety of products that work together to build an integrated full system over time and in stages, so that the cost isn't prohibitive, and the quality at the end of the project is equal or higher than other roof system options.
So how does this integrated, stage driven roof system work?
To understand the process, we first have to look at how traditional repairs work on your roof and how they fall short of what SureCoat Systems offers.
Roof repairs usually take place in critical areas that are more susceptible to water, sun and aging damage, such as walking paths, parapet walls, equipment areas, ponding water areas, etc. These repairs can be completed with multiple types of products, such as black coatings or mastics.
The problem with black coatings or mastics is that they do not reflect the heat and sun from the building. The constant beating of the sun's heat causes damage to the roof by drying it out, cracking and splitting resulting in the loss of its flexibility, leading to leaks and other roof failures. These materials also need to be removed prior to a new repair or a new roof being installed. Their "quick fix" approach does exactly and only that, quickly and temporarily fixes a problem.
The advantage of the SureCoat Systems repair and restoration products is that they have the ability to reflect the sun's heat away from the roof, which impedes it from drying out or cracking. Our products are part of a Class 1 waterproofing system that act as a base coat and can be coated over when building the next stage of a fully warranted roof when installed by an approved contractor.
The approach is simple, these phases take place in stages, and as your budget allows:
The first phase is to contact a SureCoat Systems approved contractor to inspect your roof. Following the inspection, use the inspection report to identify and address critical areas of the roof such as walk paths, scuppers, seams, ponds, fasteners or other areas that are in need of repair.
Once the repair phase is completed and when your budget is in place, address the remaining areas of the roof (not previously addressed or as recommended by your roofing contractor). The final phase of your new roof is to clean and top coat the roof making it eligible for a warranty upon completion.
By following these phases, in stages, your repair dollars aren't wasted, and previous repairs are tied into each other by simply cleaning and starting the next phase. Once the entire roof is completed, the end result will be a beautiful, seamless, fully restored and warranted roof.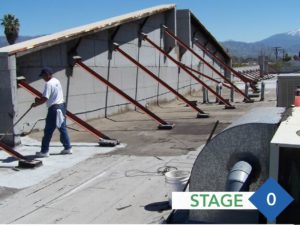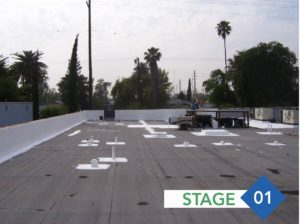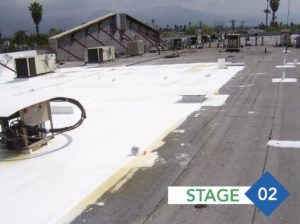 Call SureCoat Systems 877-823-7873 or click today for an Approved Contractor in your area, and get ahead of the curb to protect and prolong the life of your existing roof. Let your repairs be the start of your new roof!
Related Links