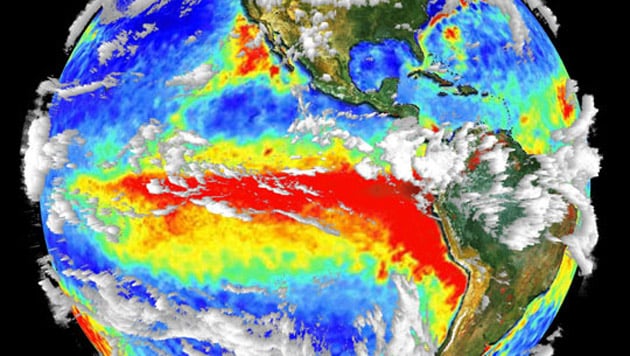 Weather fact: Did you know that "El Niño" means "the little boy," or "Christ child" in Spanish, and was originally recognized by fisherman off the coast of South America in the 1600s? A Peruvian fisherman equated the water-warming phenomenon to the newborn Christ, around Christmas, and just like that, a weather anomaly was born.
Just a year ago, we experienced the strongest El Niño since the 1997-98 season, with sea-surface temps reaching as high as 4°F above average, which is abnormally high. For reasons not clearly understood, we see El Niño make a return about every 2 to 7 years, with a patch of the Pacific Ocean warming, and then cooling, over a period of 6 to 18 months. And while many think that we're out of the woods, forecasters aren't so sure. There is an increasing possibility for another El Niño to move right back in later this year, with beginning this summer.
So what does that mean for us? Well, it's unclear just how strong another El Niño might be, but even a mild one could affect weather patterns around the world. One thing we do know is that it means that wetter conditions will prevail across the southern US, including right here in Southern California.
The National Oceanic and Atmospheric Administration (NOAA) is reporting that conditions remain neutral, with normal sea-surface temperatures; but new developments predict a 50% chance of an El Niño recurrence. NOAA scientists who have been studying the phenomenon say that there has never been a swing from El Niño to La Niña (the cooling period) and back again in such a short time, reporting that it's happened only once, in the 1960's.
With El Niño/La Niña in such a mood swing, scientists and meteorologists are focused on predicting what's going to happen; however, models and predictions disagree on what 2017 El Niño's new mood swing may unleash. Last year's El Niño caused droughts in some areas of Africa and excessive rainfall in other areas of the world. All that forecasters can really advise is to get organized and be prepared.
Even if you lucked out last year with no property damage, you can't count on having the same luck again this year. Summer is almost here, roofing season is in full swing and, with the threat of another El Niño looming, reputable roofing contractors are booking up.
When considering your roofing restoration, ask for the roof proof. For over 20 years, SureCoat Systems has Field Tested proven product reliability, lowering the cost of roof maintenance, roof repairs, and future roof budgets. SureCoat Roof Restoration Systems will not leak under ponding water – and that's a fact. Bring it, El Niño!