Why replace an existing flat roof or low-slope roof with more traditional roofing materials that are going to wear out in a short period of time? SureCoat Systems offers Roof Restoration Systems for Flat Roofs and Low-Slope Roofs with Ponding Water. Traditional roof system warranties will not cover failures in areas of ponding water. All flat roofs will pond water to some degree at some point. Roof leaks caused by ponding water occur most commonly on flat and low-slope roofs. The solution is SureCoat Systems' reinforced waterproof monolithic single-ply roof system for low slope and flat roofs. Avoid a costly tear-off by restoring your existing roof to Better than New condition with the SureCoat Roof System!
The SureCoat Roof System has been engineered to recondition and protect the design flaws of traditional roof materials including single ply systems. The SureCoat Roof System is not acrylic roof paint. The SureCoat Roof System is a unique, single-component, epoxy hybrid material that is fluid (liquid) applied and cures into a monolithic (seamless) single-ply, waterproof, cool roof membrane. The SureCoat Roof System is most comparable to single-ply roof systems, ONLY BETTER!
PVC, TPO, EPDM, and Hypalon single ply roofs all have common characteristics that make a flat roof vulnerable as it ages.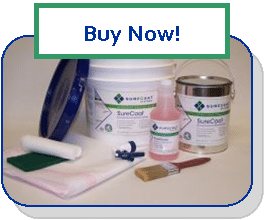 None of these vulnerabilities exist when using The SureCoat Roof System. The SureCoat Roof System has no seams; is self-adhered; and self-flashing. Using chemistry that was originally pioneered for the marine industry, this low VOC, waterproof, epoxy hybrid, elastomeric, cool roof coating was originally developed to replace 2-part urethanes used to protect foam roofs. The SureCoat Roof is Title 24 compliant cool roof and has been used to protect flat roofs from water intrusion, heat and UV radiation long before it was popular or required.
Every property has a roof that will need attention at some time, but not every property needs a new roof. Using the existing roof and reconditioning it with the SureCoat Roof System provides a cutting edge sustainable solution to issues that plague the roofing industry, including those common to acrylic and emulsion roof systems. The SureCoat Roof System will adhere to almost any roofing material including failed acrylic and emulsion, built up, modified torch down, metal, concrete and single ply roofing systems. The SureCoat Roof System has a warranty that is renewable with maintenance applications at the end of each 10, 15 or 20 year warranty period. This is the only single-component coating system that is a complete reconditioning system with a written manufacturer's warranty that includes coverage in areas of ponding water without limits on size, depth or time. Read more about our warranty here