Categories: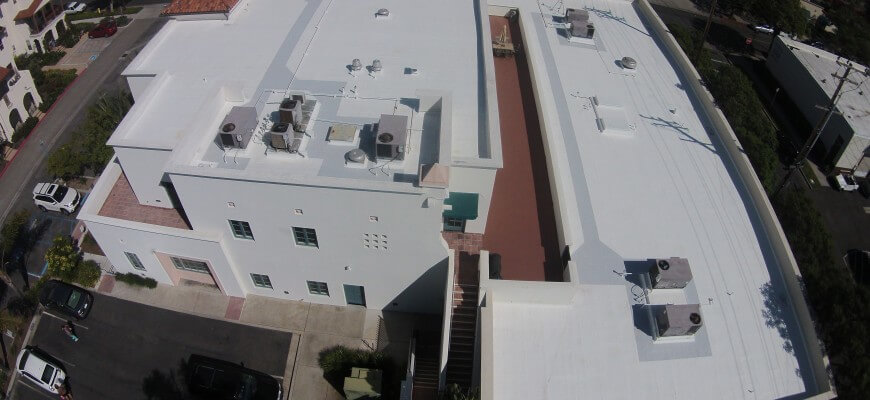 Platinum Approved Contractor, Pacific Roofing Systems, keeps 27,000 square feet of roofing materials out of landfills in Santa Barbara, California.

 
With 40 years combined roofing experience and knowledge, Pacific Roofing Systems is well versed in all roofing applications and strives to be on the cutting edge of green roofing technologies.  It is with this knowledge and unparalleled quality craftsmanship that Pacific Roofing Systems designed and built a complete roof restoration system for the Visiting Nurses & Hospice Care facility, saving 27,000 SF of roofing materials from landfills.  Utilizing only the best roofing products, Pacific Roofing Systems offers premier roofing, waterproofing, decking and sheet metal construction services throughout Southern California.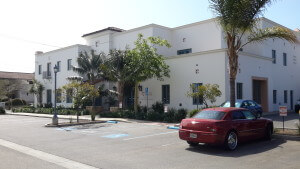 Since 1908, Visiting Nurses & Hospice Care has been dedicated to providing comprehensive home health and hospice care related services to the community of Santa Barbara, California.  From the Spanish Flu epidemic in 1918 to the National Hospice Demonstration Project in 1980, for over 100 years, Visiting Nurses & Hospice Care has built a foundation to promote health and well-being throughout their local community.
The granulated mineral cap sheet roofs of Visiting Nurses & Hospice Care suffered from chronic leaks with delamination at seals and cracks around pipe penetrations.  These failures allowed for water infiltration into the roofing system and fed leaks into their buildings.  Other roofers were hired to perform roof leak repairs but their traditional mastic patches proved to be an ineffective solution.  Each mastic repair eventually dried out and cracked, opening up the areas again to water intrusion.
In an effort to solve their roof leak issues once and for all,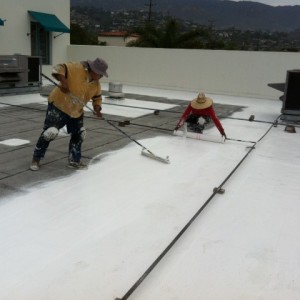 Visiting Nurses & Hospice Care called in bids for a new roof system.  Upon initial consultation with Pacific Roofing Systems, Visiting Nurses & Hospice Care was convinced they wanted a new TPO roof.  Pacific Roofing Systems met with the owners and presented a bid for TPO (the basis of design) and an alternate for the SureCoat Roof System (SCRS).  The owners considered a TPO system but lost interest after hearing about the superior elastomeric characteristics of the SCRS.  The owner's decision was swayed by the monolithic properties of the SCRS, elimination of roof tear-off costs and the unmatched SureCoat Systems' roof warranty which states performance and protection against ponding water conditions.  Additionally, the owners realized tremendous long term value in the SCRS for the fact that a SureCoat roof is highly solar reflective, heat emissive, Title 24 compliant, and Energy Star approved.  Learn more about the SureCoat Roof System here…
Parking and roof access was also a major challenge on this project.  A roof tear-off would have resulted in project delays, demanded significant displacement of parking spots and costly tear-off and dump fees.  After presenting the differences between a traditional TPO single-ply roof system and the SureCoat Seamless Single-Ply roof system, it was clear to the owners that the SCRS was their unanimous choice.
Pacific Roofing Systems installed a 62 mil, fully reinforced, 20-Year Renewable SureCoat Roof Restoration System over each building for a total of 27,000 SF.  For additional durability, Pacific Roofing Systems installed a non-slip walkway coating system as a path for service access to HVAC contractors.  This new walkway will provide additional protection to heavy foot traffic and additional slip resistance during routine HVAC equipment maintenance.
"Do you know the feeling of confidence and conviction when you buy a high quality product?  The SureCoat Roof System embodies the performance and durability that gives contractors and building owners' confidence and conviction that SureCoat will protect their most valuable investments.  Pacific Roofing Systems enjoys and appreciates the professionalism and unparalleled customer service provided by the SureCoat Systems' staff.  The service provided by SureCoat Systems from training, product literature, marketing, product support, order processing, technical support, and warranty processing has proven to set the standard in the industry."
Alan Stovesand, Pacific Roofing Systems – Dana Point, California
Pacific Roofing Systems takes pride in utilizing the best roofing products, superior craftsmanship and expert customer service on every project. To learn more about Pacific Roofing Systems click here.
Click here to contact
SureCoat Systems

or call


877-823-7873

for installation and pricing information.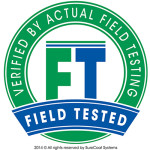 Categories: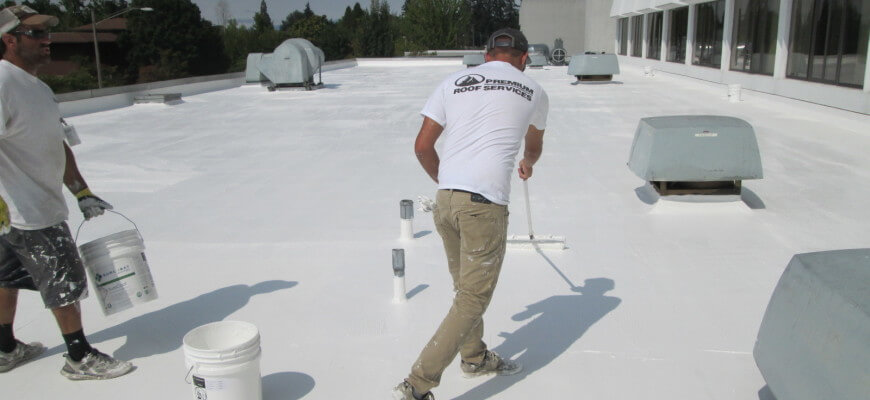 Premium Roof Services restored an additional 13,000 SF of PVC roof membrane in Albany, Oregon for the Samaritan Albany General Hospital (AGH) this summer.  Phase I of the roof restoration was located on the upper wing over 15,000 SF of PVC roof membrane located over the Neonatal departments of the hospital.  Phase II was for another 13,000 SF over PVC roofing membrane located over the ER room, Laboratories and Diagnostic Imaging departments.  Phase I and Phase II both had 10 year old PVC roofs that were deteriorating and splitting allowing for water intrusion with each rain. These roof systems were exposed single-ply PVC roof membranes over a built-up roof with metal roof substrates and foam insulation.
PVC (Polyvinyl Chloride) is a synthetic plastic polymer used in the manufacturing of several products including roof membranes. According to Wikipedia, PVC is the third most widely manufactured synthetic plastic.  In the manufacturing of PVC roof membranes, plasticizers are added to the PVC to
increase the flexibility of the plastic and increase elasticity.  Plasticizers are additives meant to lower the cold-flex temperatures and increase the durability to PVC.  Over time these plasticizers evaporate or migrate out of the plastic. This process is accelerated when the PVC material is exposed to UV, heat and thermal cycles. As the plasticizers dry out of the PVC roof membrane, the roof loses its ability to move with the building and thermal cycling. The PVC then becomes brittle, cracks and separates beginning at the seams and areas of heavy wear on the roof such as ponds, waterways and drains.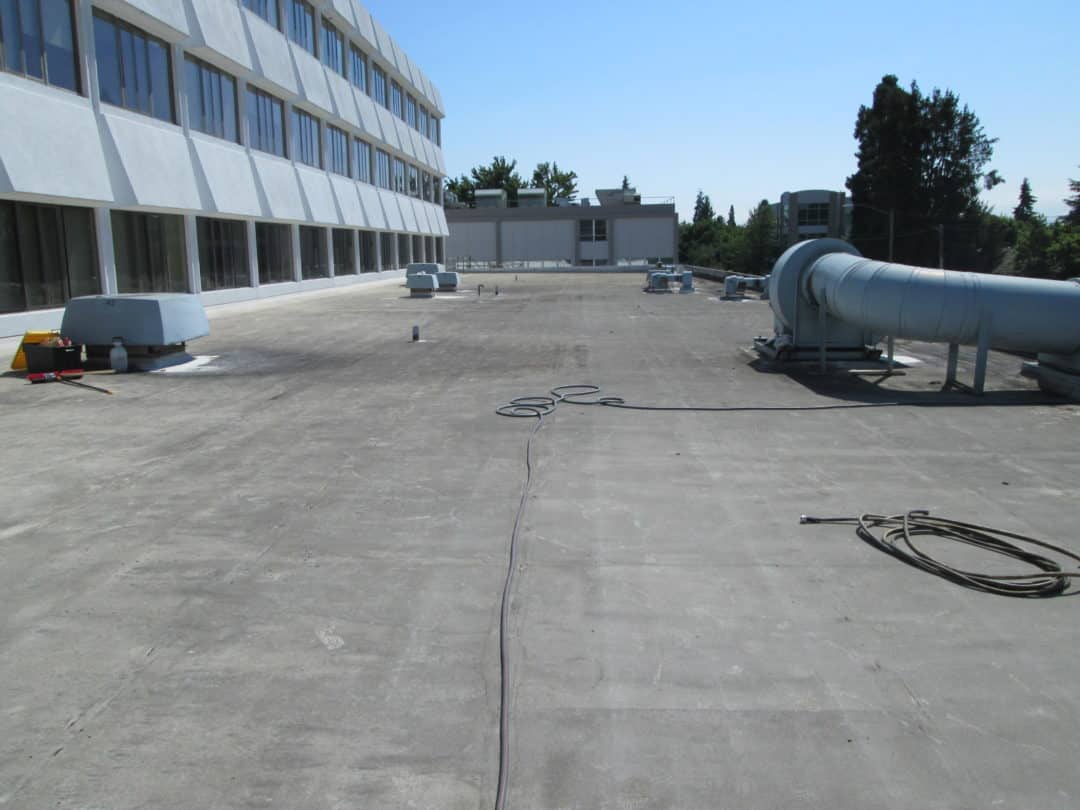 The PVC roof membranes of AGH showed signs of multiple repair attempts at drains, waterways, crickets and at seams throughout the roof.  Roof repairs including caulking, acrylic and other roof coatings were prevalent throughout the PVC roof membrane.  The temporary coating repairs were completely worn off in the roof crickets, waterways and drains after only a few short seasons.
Concerns with this section of the hospital's roofs were similar to Phase I.  Phase II of the AGH roof restoration project was located over a lower level wing that housed the Physical Therapy, Laboratories, Diagnostic Imaging and the ER departments.  Similar to Phase I of the roof restorations, noise, debris, disruption and, of course, costs were the main concerns when choosing a solution to their PVC roof leaks.  A complete roof replacement would have included a roof tear-off, disposal and replacement of the entire built-up roof system which consists of multiple layers of roofing and insulation.  This would have created an extreme amount of noise, debris and risk to the patient exam rooms and offices as well as cost much more than a SureCoat Roof Restoration.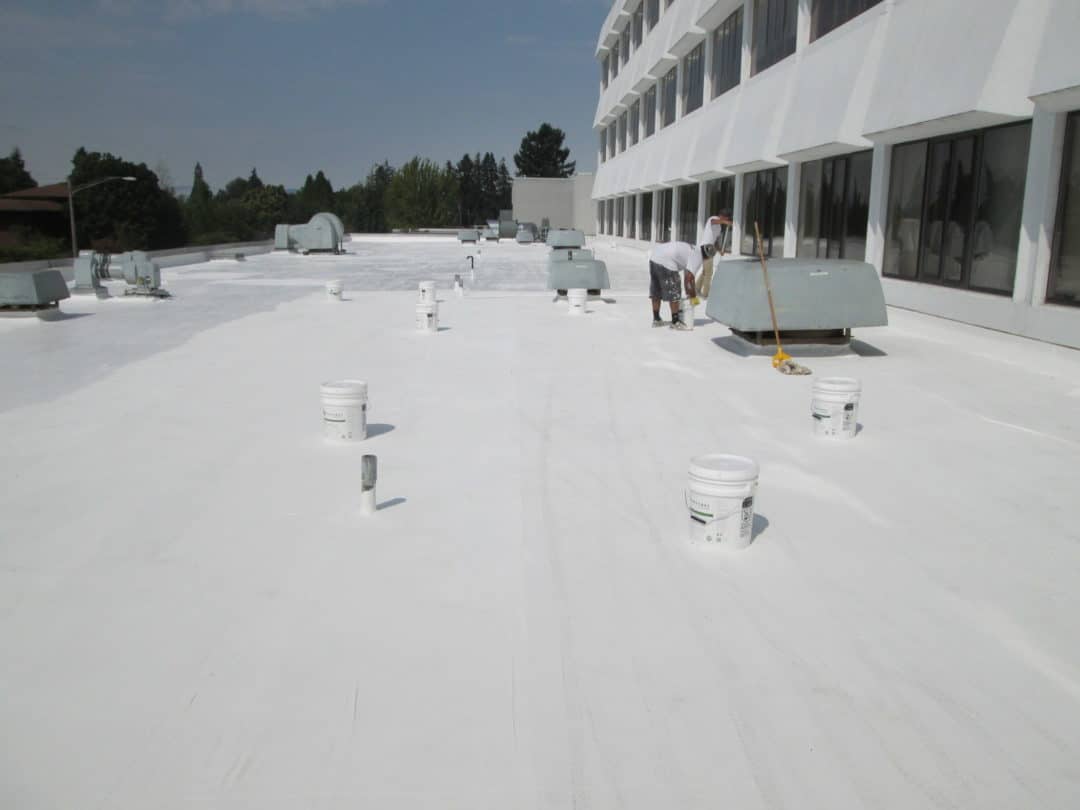 Additional obstacles of restoring the PVC roof membranes at the hospital involved repairs throughout the roof at delaminating seams and areas where the roof membrane had begun to deteriorate.  The PVC was eroding in the drain and cricket areas so badly that rain water was running into and under the roof membrane until it hit the roof drains.  At this stage of wear, the exposed PVC roof membrane no longer distributed waterproofing ability as this portion of the roof leaked during every rain.
As a result of Premium Roof Services outstanding services, Mr. Keen, Plant Engineer II of Samaritan Albany General Hospital wrote this letter of recommendation:
For a few years we started developing some small random leaks to our roof.  Our maintenance crew would chase them down and repair them the best we could.  As the problem began to occur more often, something had to be done to fix our roof.  Being a hospital we had a couple of big issues to work around, one being the area below the roof which is the women's birthing center and another was not being able to turn off the main air intake on the roof which supplies the air to some of our operating rooms. If we were to do a complete tear-off, we would have to shut down operating rooms and have to relocate everyone on the floor below for the duration of the project.  Doing a complete tear-off and re-roof was just not an option.

After reading about the SureCoat System on their website, I contacted them to find out who our local approved contractor was.  They put me in touch with Eric Keithcart, owner of Premium Roof Services.  When I met with Eric to look at our facility and situation he was in agreement that the SureCoat Roof System was definitely the way to go.  We would be able to keep the operating rooms open while the work was performed and not need to relocate anyone on the floor below the roof.  When Premium Roof Services showed up on site to begin work, they worked very conscientiously to make sure any leak areas that they found were repaired before they began washing the roof to insure the staff and patients below were safe and dry.  The project was completed ahead of schedule and the results were instantaneous!  The second roof they did for us had more of the same issues and the same results.

With money always being an issue with any project, the SureCoat System came in under any of our complete re-roof quotes.  Even though we spent less money to have our roof repaired, we have a better warranty and a better quality product.  At our hospital we do our absolute best to try and not inconvenience the patients and staff.  Premium Roof Services and the SureCoat System fit directly into this category.

Eric and his crew are top-notch!  Premium Roof Services is our ONLY contact for any of our roofing needs.  –  Jeff Keen, Plant Engineer II 
Together with a SureCoat Systems' Product Specialist, Premium Roof Services was able to specify and execute a solution which addressed all the issues that the hospital's roofs had been suffering from for the past several years.  As an Approved Contractor of the SureCoat Roof System, Eric Keithcart was able to extend the industry's best roof warranty to his repeat customer once again.  For more information on Premium Roof Services or their commercial roofing solutions, visit www.premiumroofservicesbend.com.
SureCoat Systems specializes in waterproofing systems for industrial and commercial flat and low-sloped roofing, exterior walls and concrete.  SureCoat Systems has developed an exclusive line of roof coatings and waterproofing products that conserve on energy and protect buildings from water intrusion.
Do you have a roofing problem?  We can help you solve it!  Call 877-823-7873 and speak to a Product Specialist today or visit www.surecoatsystems.com.